The world of cartoons and fairy tales, which is heard by children and adults. Many people cannot imagine their first trip to Paris without the opportunity to spend at least one day at Disneyland Paris.
I have visited Disneyland Paris two times. At different times of the year with an interval of 6 years. Not being a child anymore. And each time there was an opportunity to spend only one day in this park. So in this article I will show you how to plan and spend one day at Disneyland Paris.
Some information about Disneyland in Paris
Here are some interesting facts about the size of this amusement park:
Disneyland Paris opened in 1992
Over 320 million guests since opening
Two parks inside the park: Disneyland and Disney Studio
About 15,000 employees of 100 different nationalities
The park's main street architecture was inspired by Walt Disney's hometown
Disney's castle in Paris is the only one with a dragon
About 1 million flowers are planted on the territory annually
Mickey Mouse is everywhere: in the form of a mosaic, on clocks, rails, doors, or even as air vents
In addition to France, Disneyland is located in the USA, Japan and Hong Kong.
Disney castle in Paris is different from others, and is inspired by the architecture of Mont Saint-Michel (a walled island in France)
Disneyland Paris Park is open all year round, Monday through Sunday, even on public holidays.
Disneyland is open from 10:00 to 22:00.
Disney Studio is open from 10:00 to 20:00.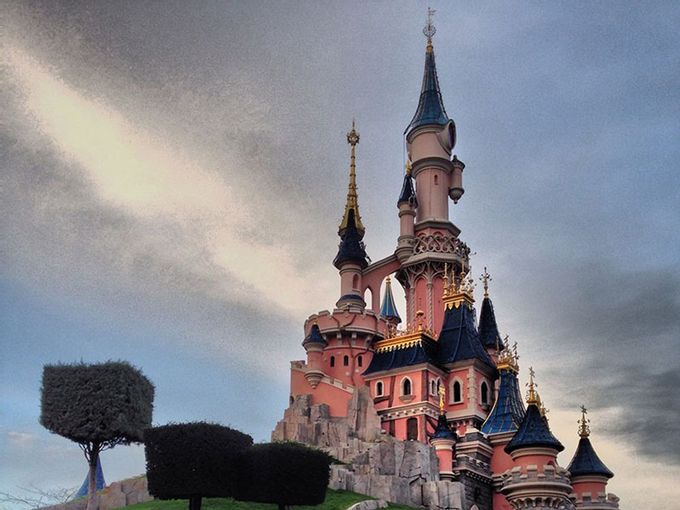 So, there is Disneyland and Disney Studio. To be honest, you can only manage two parks in one day with a fast pass. This is a ticket type that avoids the queue for certain attractions. More precisely, not so, not completely avoidable, but reduce the waiting time. Fast pass is free and paid.
By scanning your entrance ticket, you can get a free fast pass. Thus, you get a ticket for a certain time for a certain attraction. But there is a limit on the quantity.
Paid fast pass can be bought online. Cost from 45 to 150 €. It all depends on the attractions.
If you have only one day to visit Disneyland in Paris, be sure to use fast passes or choose only one park. Everything is individual, but this one day may be enough for an adult. For a trip to Disneyland with children, I would allocate 2-3 days.
How to get to Disneyland from Paris
You can get to Disneyland Paris by RER A. Disneyland is located a short walk from the Marne-la-Vallée / Chessy station.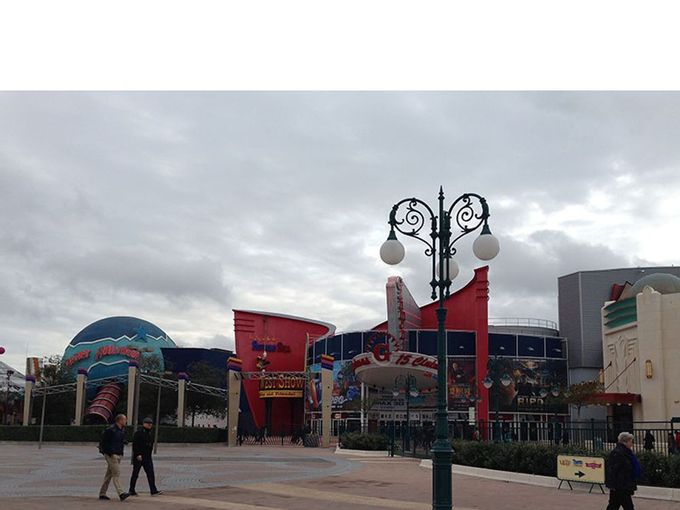 The transport system in Paris and the suburbs is divided into 5 zones. When buying a ticket, it is important to know that the Marne-la-Vallée station is in zone 5. The journey takes approximately 60 minutes. The last train to Paris leaves at 00:10.
If you buy a ticket at a metro station, then you choose the departure from a specific station and to Marne-la-Vallé. Yes, with such a ticket you can take the metro and then change to RER A.
The RATP app or website will help you plan your route.
Alternative options are to get there using the Disneyland bus transfer or call, for example, Uber.
When is the best time to go to Disneyland
Disneyland in Paris is best visited in spring or autumn (until November).
November is the grayest and wettest month in this part of France. September can be the perfect time to visit Disneyland Paris. It's still warm outside, and most adults and children are back to business.
There are significantly fewer guests in January and February, as well as during the week. Especially on Tuesdays and Thursdays.

How much is a ticket to Disneyland for one day
It is more profitable and more convenient to buy tickets online.
Children under 3 years old do not need a ticket. There is a discount for children from 3 to 11 years old. Well, adults, as always, pay the full cost 🙂
1 day / 1 park - € 87 for adults and € 80 for children
1 day / 2 parks - € 107 for adults and € 100 for children
Super Magic ticket + transfer:
1 day / 1 park - € 92 for adults and € 85 for children
1 day / 2 parks - 112 € for adults and 105 € for children
The shuttle departs from Gare du Nord, Opéra, Châtelet and near the Eiffel Tower.
What to see for an adult in one day at Disneyland Paris
The park is not only for children, but also for adults. Yes, there is no wild extreme here. If you want to focus on roller coasters, then it is better to go to Asterix Park.
Disneyland is all about diving into the atmosphere. A bit fabulous, even legendary.
For two visits to Disneyland, I managed only to Disneyland Park, not to Disney Studio. So here is my top of the rides that may be interesting to adults (children) in Disneyland Park.
Interesting rides for adults in Disneyland Park:
If you want to ride with the breeze, then you are here:
Indiana Jones is not a kid's thing, for roller coaster fans
Star Wars Hyperspace Mountain - for fans of fast rides, my personal top at Disneyland
Big Thunder Mountain - fun slides without strong drops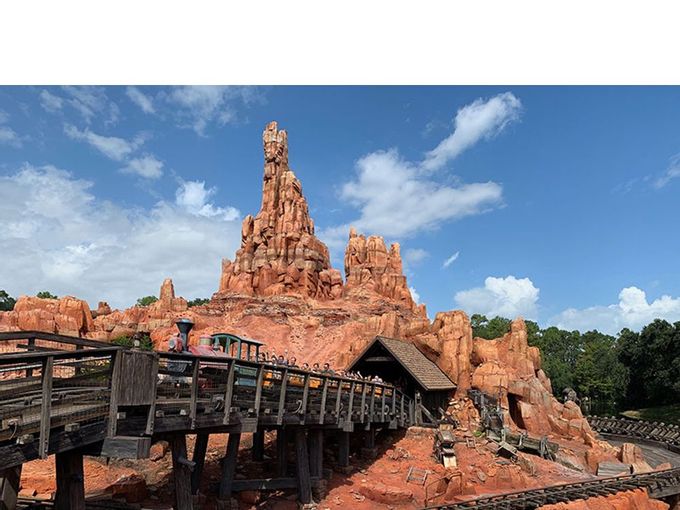 If you don't like roller coasters and everything connected with it:
Alice's Curious Labyrinth - the maze of the very Alice from Wonderland
Disneyland Castle - the main castle, the symbol of Disneyland Paris, in which the dragon lives
Mad Hatter's Tea Cups - when else will you roll in a huge cup that is spinning you?
Orbitron - imposingly spin in a spaceship
Pirates of the Caribbean - atmospheric boat trip in the caves
Phantom Manor - now closed for renovations, interesting "haunted house"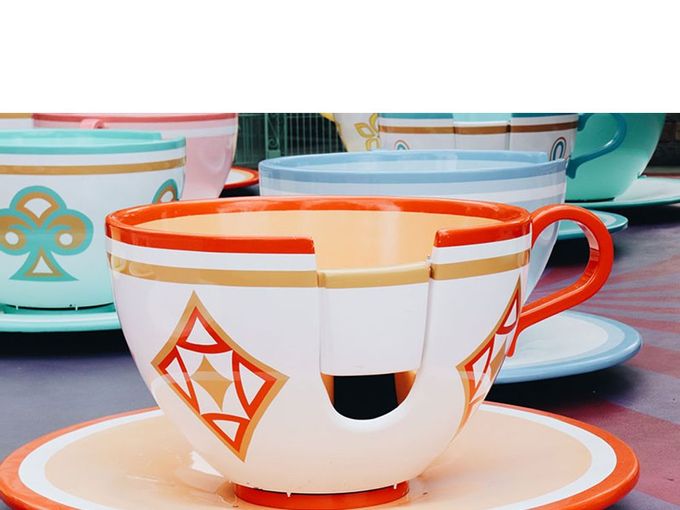 As the icing on the cake, there will be a 5:30 pm afternoon parade with Disney characters. And in the evenings there is a show with illumination and fireworks. A beautiful sight.
I advise you to download the Disneyland Paris mobile app. It will help you plan your visit to the park, and track the waiting time for attractions. And also informs about attractions that are closed for renovation.
What I didn't like in one day at Disneyland Paris
Queues, food and shops. And that's why.
Queues
The impression is that the park administration is selling more tickets than the park is able to service. As a result, there are impressive queues. Everywhere. On rides, for food, in toilets, in stores. Imagine if it rains outside.
Thus, the demand for the purchase of fast pass increases. Because it's a shame to waste time when you have already bought an expensive entrance ticket.
Food
There is nothing to eat at Disneyland Paris. Every time I was convinced of this. Overpriced, frankly tasteless fast food. Burgers, hot dogs and dry fries. Count on € 20-30 per person. You can take something to eat with you if fast food is not yours. The park rules prohibit bringing your own food, but in reality it is possible.
There are also restaurants on the territory, but it is difficult to get there due to the number of people. You need to book a table in advance.
The shops
There are tons of shops on the Disneyland grounds. Everything is on sale. From Minnie Mouse ears to princess costumes. It is definitely dangerous to go to such a place with children, because everyone will want them. This is what it is designed for.
With the passage of time, I can say that these are useless purchases. Things that then lie and collect dust. How often do I use the huge Mickey Mouse paws I bought once at Disneyland ?! The question is rhetorical. And the quality of things, to put it mildly, is not very good. A prime example of goods made in China. All this is only sold at Parisian prices.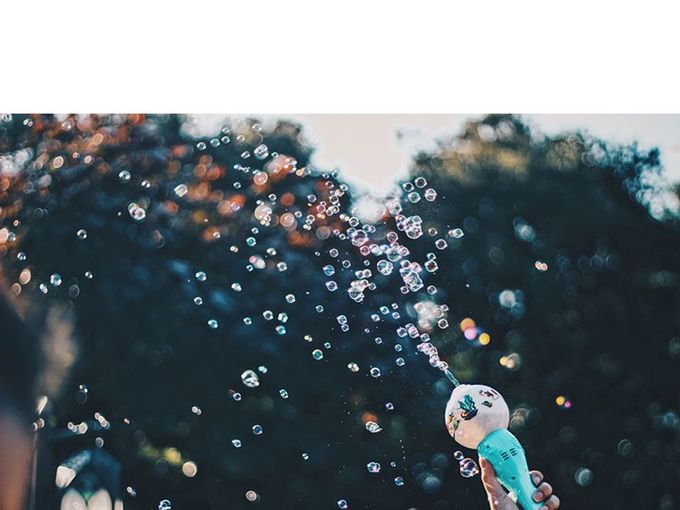 Despite these three points, one day at Disneyland Paris will be remembered for a long time. A place where a child and an adult from any corner of the planet feel happiness. Is it worth getting into this atmosphere at least once in your life? Definitely yes!
If you are traveling to Paris, then these articles may come in handy for you:
Paris airports and how to get there
3 days in Paris: what to see and where to go
Travel from Paris to Normandy
Top 10 best parks in Paris worth seeing