Master class and story about the main Thai soup
Tom yum is perhaps the only Thai dish that has become a must-have item on the menu of any city restaurant with so-called comfort food. One can only speculate why. Either because of the popularity of Thai resorts among our compatriots, or because the sour-spicy taste turned out to be close to us, or because of its ability to transform from rich meat into light vegetarian or gourmet fish.
Be that as it may, along with memories of the sea, sun and sand, we brought our own ideas about what a real tom-yum should be like. Naturally, drawing conclusions based on adapted tourist menus. And try to convince our man that tom yum can be without coconut milk, but with lemon juice. Because the main thing in this soup is a set of roots and spices that respond to the aroma and taste of the broth, and the rest is an option available and familiar to a particular region of Thailand.
We talked about tom-yama with a connoisseur of Thai cuisine, chef and co-owner of the Ya v Thai corner, Louis Onyen on the Streat gastronomic street, Genso Sushi, Is Ku, the chef of the Teburasika bar and the Vkustah gastrobar
In Thailand, there is no single correct, canonical recipe for tom yum soup. By the way, neighboring Cambodia has its own tom yum, although, in my opinion, it is impossible to eat. I tried many variants of tom yam in different regions of Thailand, everywhere it was different from others.
There are disputes whether to cook tom yum with or without coconut milk, but in Thailand they cook it this way and that. And on malted milk too - here's another kind of tom yum for you. Someone makes a thick tom-yum so that the spoon can stand, by the way, Russian tourists like this one, because the consistency resembles borscht or cabbage soup. Someone makes it thin, more like a broth. Someone is sour (for example, in the north of Thailand they cook tom yum without coconut milk, but with lemon juice), someone is spicier.
Probably only one thing more or less everyone does. Asian cuisine is always a mix of meat and fish products. That is, meat broth in which seafood swims is normal. So in any tom-pit, cooked in chicken broth, there may be fish.
And there is aromatics, for which we love this soup. It is important to keep it regardless of what you cook soup on. But it is not so easy to understand it, it is even more difficult to repeat it. But you can.
The original tom yum is made with nam-prik-pao pasta, roughly speaking, this is Thai adjika: overcooked dried Thai chili with lots of garlic, shallots, tamarind, fish sauce and sugar. It turns out not very spicy (because this is a feature of Thai chili) heterogeneous paste - it is it that gives the tom pit its characteristic color and basic spiciness (which is then finished to taste with a more spicy bird's eye pepper). In Russia, this paste is not available, but there are industrial pastes from the largest supplier of all Thai in our market, I'm talking about Aroy-D. Ninety-nine percent of chefs and just amateurs cook from it. Initially, this paste was something like "just add water", that is, a soup concentrate consisting of grated ingredients for tom yum in general: you add water or milk, and the soup is ready. But in fact, you will get more cabbage soup, because there will not be the right aroma and taste there.
Now I will show you how to make a real tom yum. I'll make a water and coconut milk version with seafood.
One.
We'll cook a liter of soup. It can be 2-4 servings, depending on how much you eat. Pour 800 ml of water into a saucepan, put it on fire. Any broth can be used instead of water.
Further, our main task is to turn water into a base for tom pit, to make it fragrant.
Prepare the roots. Cut 20 grams of galangal and ginger each, beat them off with a knife, throw them into the pan. Galangal and ginger are often confused with each other. Look at the cut they are different.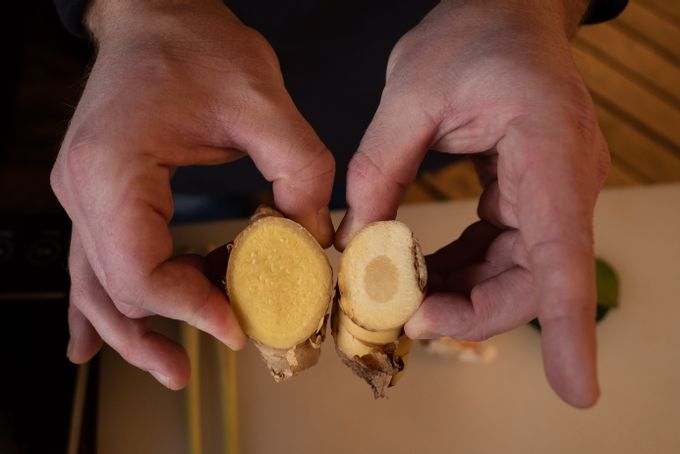 2.
Take 20 grams of lemongrass, beat it with a knife and cut it. Peel 20 grams of garlic, crush the cloves with a knife. Garlic is a natural flavor enhancer because it contains monosodium glutamate. The rest we add more for flavor. It is necessary to crush the roots so that their structure collapses and they give the flavor to the water faster and to a greater extent. Tear 5 kaffir lime leaves with your hands. Throw everything into the pot.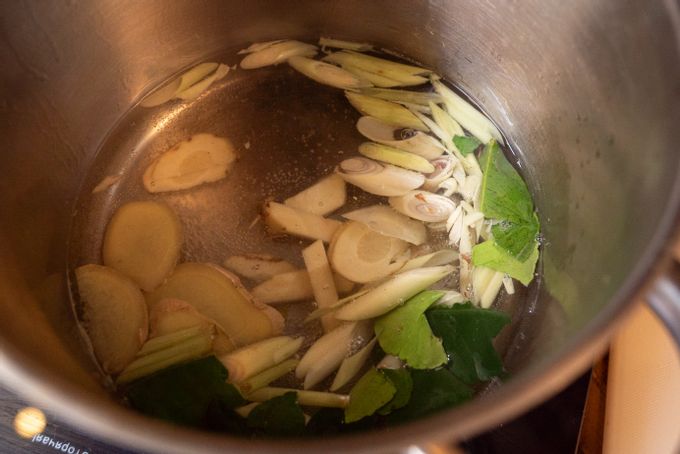 3.
Leave everything to boil for 5 minutes until the water turns green. As soon as we see that the chlorophyll contained in the lime leaves has been released into the water, the lemongrass has given up its colors, we understand that everything, the products are destroyed, its flavors and useful things are already in the broth. Its aroma is the aroma of tom yum, what distinguishes this soup from the rest. You can't digest the broth, the only thing you risk by leaving everything to cook for a long time is that the moisture will evaporate and you will be left without the broth.
At this point, you can add 200 ml of coconut milk. Choose milk with a fat content of 17-19%. Anything fatter is already coconut cream. Do not take them: they can exfoliate.
800 ml of water and 200 ml of coconut milk is my recipe. You are free to experiment. If you want a thicker soup, add more milk.
Bring the entire mixture to a boil. Milk and water should become a homogeneous mass.
If you do not want to make tom yum with milk, do not add it, take a liter of water right away.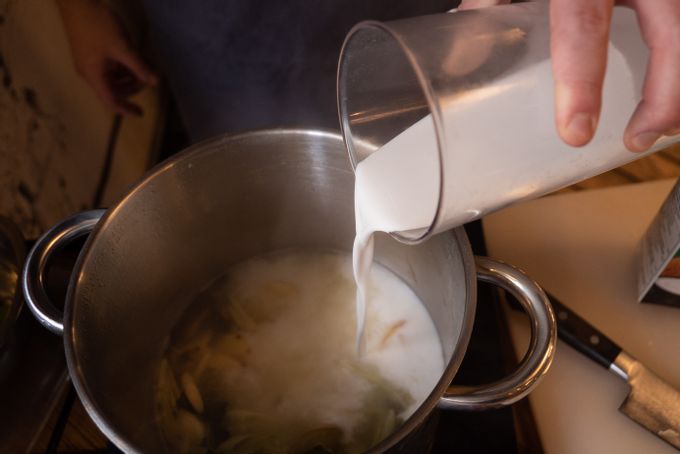 4.
Tom yum paste is acidic. If you add it to the broth, and then pour the milk, it will curdle. Therefore, we add it only after.
Like I said, we cook our own pasta. You can use store-bought, but, again, it does not reflect the full richness of the tastes and aroma of tom yum. If you want to make your own pasta, here is the recipe. Take 100 grams of dried chili, 80 grams of shallots, 20 grams of garlic. Soak chili for 15 minutes at room temperature. Fry shallots and garlic with vegetable oil in a pan until softened, add chili, fry, then grind everything in a mortar or blender to a paste. Transfer the pasta back to the pan, add 20 grams of tamarind (paste), fish sauce to taste and the important ingredient - belachan. It is a fermented krill paste, a unique spice. Take 10 grams, wrap in foil and heat with a lighter or over a gas burner, add to the paste. Add about 50 grams of palm sugar, see your taste. Rub everything again. You should get a thick sweet paste, a kind of jam from chili, spicy but not too hot.
Add 100 grams of pasta to the soup, stir.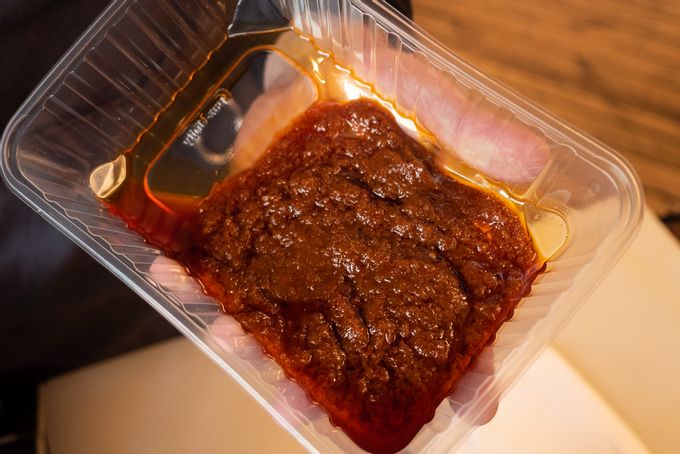 5.
Add 20 grams of tamarind paste (do not confuse it with sauce, you need a paste consisting of tamarind, water and maybe some preservatives), 20 grams of palm sugar, salt to taste and most importantly - fish sauce. Thais add it everywhere. I do not buy Thai fish sauce, but Vietnamese, because it is richer in taste and not as concentrated and salty. Add 10 grams. It is a pure flavor enhancer because it is a product of fermentation. Stir.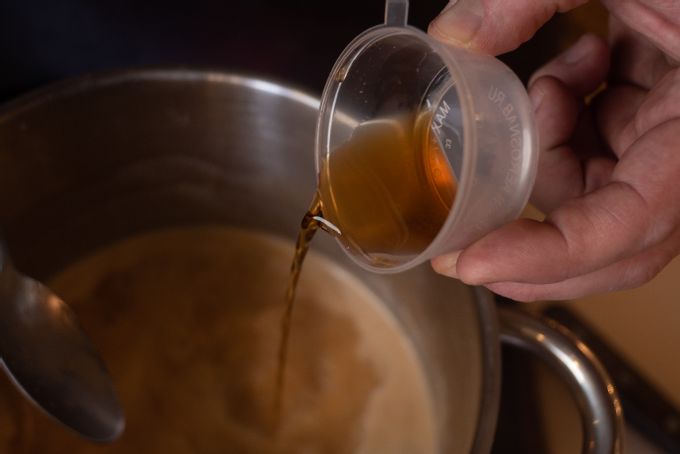 6.
Strain the broth. In general, the Thais do not do this, so roots, leaves float in their plate, and the edible components of the soup must be scooped out of all this. I'm for filtering: it's more convenient. Throw away the roots, they gave everything they could to the soup.
To heighten the effect, you can break through the broth with roots, and then strain, so there will be even more taste.
The base for the tom pit is ready. You can not freeze the broth, after defrosting it will delaminate. But it can be kept in the refrigerator for 3 days.
Put the broth back on the stove.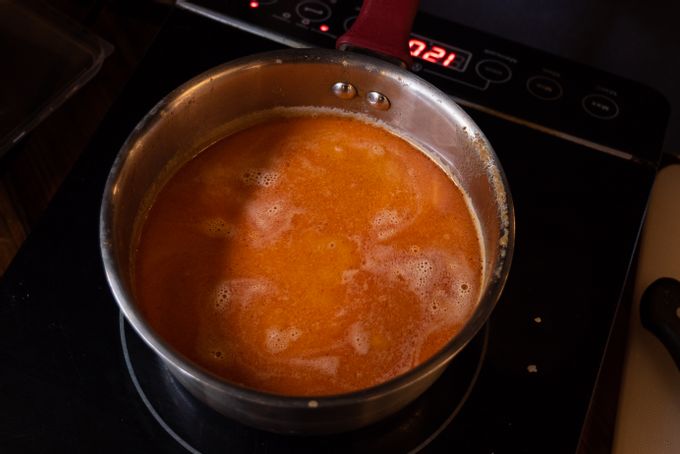 7.
We will add seafood - mussels, squid, shrimp and mini octopuses. We have thawed, but you can throw in the soup and frozen. Boil for a minute until done.
You can add chicken pieces or make a vegetarian option by adding mushrooms, vegetables, and tofu. There is such a story with mushrooms: many people think that only straw mushrooms go into the original soup, but this is not so. Any mushrooms that do not have a pronounced smell will do. For example, the mushrooms of our middle lane are very fragrant, they will kill the entire aroma of the tom pit. You can use oyster mushrooms or the same mushrooms. For Thais, in general, everything that is at hand goes into this soup. The main thing is not the filling, but the base that we welded.
Add finely chopped oyster mushrooms to the soup. Boil for a minute.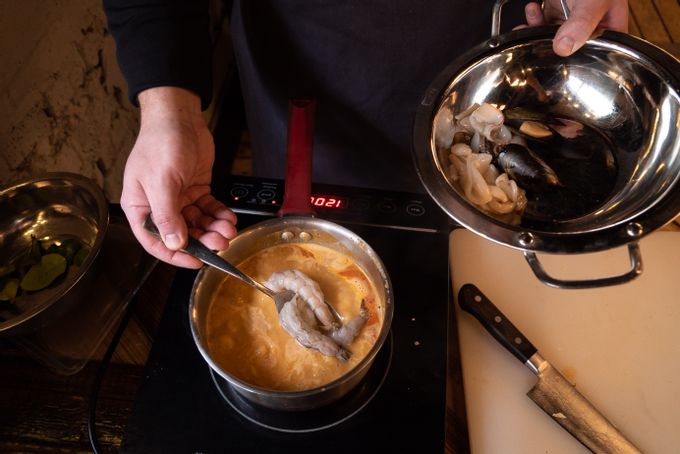 Eight.
At the end, add one small tomato: cut it into slices and throw it into the soup. Add one kaffir lime leaf.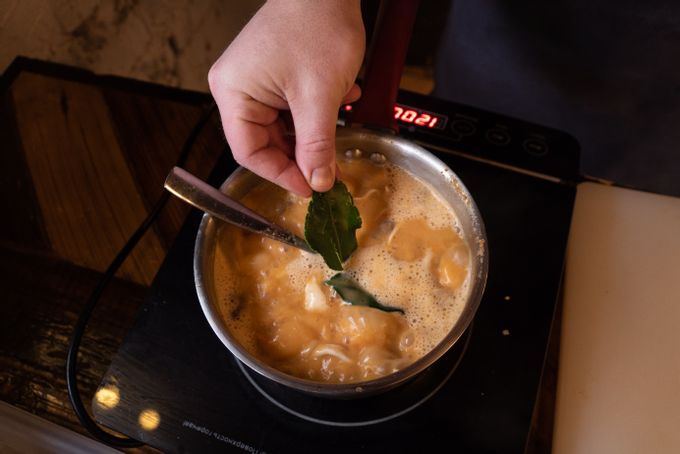 9.
Pour the soup into a saucepan and add the chopped cilantro. I use ours. Thai cilantro differs slightly in flavor and is more crunchy but not found in our market.
If you want to make the soup spicier, add some bird's eye pepper to it. You can also add a little freshly squeezed lemon juice to the soup if you don't have enough lemon flavor and acidity.
Tom yum is usually served with boiled rice to dampen the spiciness. And also it acts as a kind of scrub, because it cleans our larynx from particles of spicy food. Well, plus rice is a kind of Asian bread.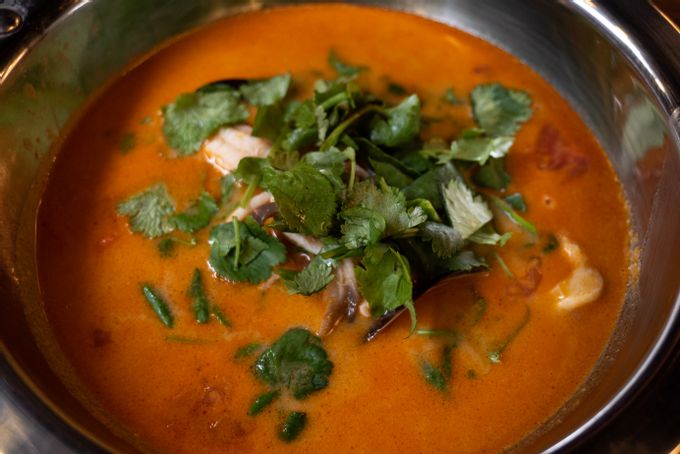 Things to know (Q&A)
How do you cook tom yum kung?
How to cook :
Pour the water into a pot, add the lemon grass and kaffir-lime leaves and heat it.
Add the shrimps when the water is boiling and cover the pot.
Wait for 3 minutes before adding the mushrooms and salt.
Leave it to simmer for a few minutes. ...
Season with fish sauce, lime juice and ground chilli.
How do you make tom yum chicken?
Tom Yum Gai ต้มยำไก่ (lemongrass chicken soup)
4 cups chicken stock.
350 g chicken thigh, 1-inch pieces.
3 Tbsp fish sauce.
2 heads shallots.
3-4 dried chilies (or substitute fresh chilies)
2 stalks lemongrass, bottom half only, cut into 1-2 inch pieces.
5-6 rounds galangal.
5-6 kaffir lime leaves, torn.
Is tom yum soup healthy?
Best: Tom Yum Soup

It's a healthy pick . Tom yum has fewer than 100 calories per cup. It also has shrimp, veggies, and fragrant spices, such as lemongrass. Tom yum and other broth-based soups, like tofu-vegetable or wonton, are usually lower in fat and calories than soups made with coconut milk, such as tom kha.
What is tom yum sauce made of?
Tom Yum is the flavors of lemongrass, galangal, kaffir lime leaves, fresh Thai chilies, and fresh lime juice , that all combine to create a healthy and soothing broth.
What is tom yum kung flavor?
Tom yum kung is the most famous of all Thai soups. Bold, fragrant, filling, and altogether the perfect lunch or dinner, it features all four of the famous Thai flavors: salty, sour, sweet, and spicy . Contrary to popular belief, authentic tom yum kung is made without coconut milk.
How do you eat tom yum Kung?
In Thailand, Tom Yum Soup is often served alongside sticky rice . You can even add rice to your bowl then spoon the soup over it. As far as toppings, the more, the better! I love fresh, citrusy cilantro, earthy, fresh basil, sharp green onions, and spicy chilies.
Is tom yum Kung healthy?
It is a staple Thai hot and sour soup made of Thai ingredients that have several health benefits. ... It is generally believed that the ingredients used in making Tom Yum Goong are beneficial in improving one's health condition . Some researchers even suggested that these ingredients are effective in curing cancers.