Thomas Edison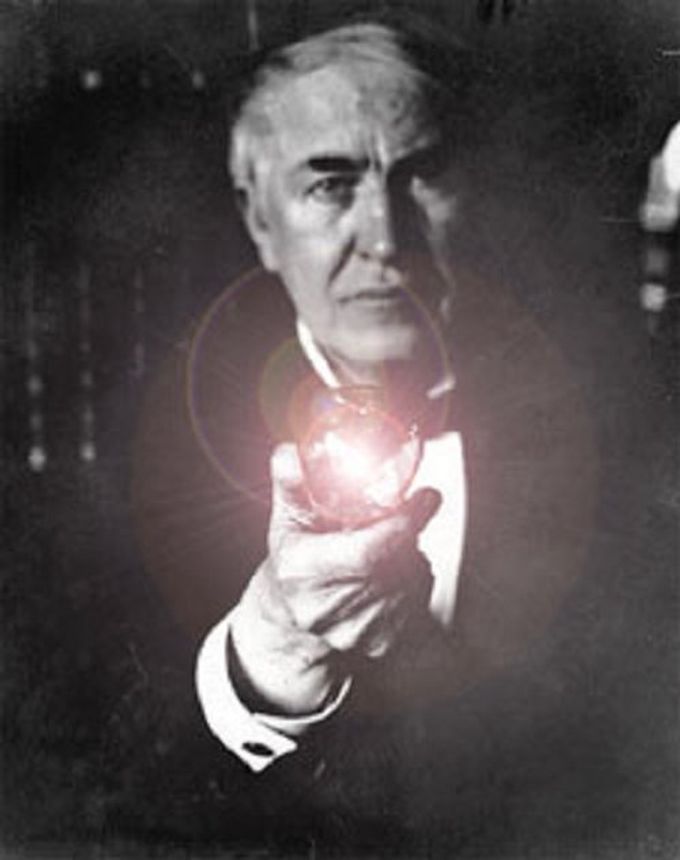 Thomas Alva Edison. Born February 11, 1847, Maylen, Ohio - died October 18, 1931, West Orange, New Jersey. American inventor and entrepreneur. Edison received 1,093 patents in the United States and about 3,000 in other countries of the world. He improved the telegraph, telephone, cinema equipment, developed one of the first commercially successful versions of an electric incandescent lamp, and invented the phonograph. It was he who suggested using the word "hello" at the beginning of a telephone conversation. In 1928 he was awarded the highest US award, the Congressional Gold Medal. In 1930 he became a foreign honorary member of the Academy of Sciences of the USSR.
Around 1730, the family of the miller Edison moved from Holland to America. They were given a piece of land in the small village of Caldwell in New Jersey. The first accurate information about Edison's ancestors dates back to the period of the Revolutionary War (1775-1783). John Edison, a wealthy landowner and great-grandfather of the inventor, took part in the war on the side of England. However, he was caught by the revolutionaries and convicted. Only thanks to his relatives, John was able to avoid serious punishment, was expelled from the United States and settled with his family in Canada.
In 1804, the son of Samuel Jr., the future father of Thomas A. Edison, was born into the family of the eldest son John Samuel.
In 1811, not far from present-day Port Barwell in Canada, the Edison family received a large plot of land and finally settled in the village of Vienna.
In 1812-1814, Captain Samuel Edison Sr., the future grandfather of Thomas Alva, took part in the Anglo-American War. In the years that followed, the Edison family thrived, and their hospitable riverside manor was known throughout the area.
In 1828, Samuel Jr. married Nancy Eliot, the daughter of a priest, who received a good upbringing and education and worked as a teacher in a Vienna school.
In 1837, an uprising broke out in Canada, under the influence of the economic crisis and poor harvest, in which Samuel the younger took part. However, government forces suppressed the rebellion and Samuel was forced to flee to Mylan (Ohio, USA) to avoid punishment.
In 1839, he manages to transport Nancy with the children. Edison's affairs were going well. It was during this period of Edison's life in Mailan that his son Thomas Alva was born (February 11, 1847).
Al - as Thomas Alwa was called in childhood, was small and looked a little frail. However, he was very interested in the life around him: he watched the steamers and barges, the work of carpenters, the launching of boats at the shipyard, or sat quietly for hours in a corner, copying the inscriptions on the signboards of warehouses. At the age of five, Al visited Vienna with his parents and met his grandfather.
In 1854, the Edison moved to Port Huron, Michigan, located at the bottom of Lake Huron. Here Alva attended school for three months. The teachers considered him "limited" because they did not try to understand and develop the child's personality. His mother took him out of school and gave him his first education.
Edison often visited the Port Huron People's Library. Until the age of twelve, he managed to read Gibbon's History of the Rise and Decline of the Roman Empire, Hume's History of Great Britain, Burton's History of the Reformation. However, the future inventor read his first scientific book at the age of nine. It was "Natural and Experimental Philosophy" by Richard Green Parker, telling almost all the scientific and technical information of the time. Over the course of time, he did almost all the experiments mentioned in the book.
Things to know (Q&A)
What was Thomas Edison's personal life?
In 1871 Edison married 16-year- old Mary Stilwell , who was an employee at one of his businesses. During their 13-year marriage, they had three children,
What kind of person was Thomas Edison?
Thomas Alva Edison (February 11, 1847 –
Who is Thomas Edison's wife?
Edison's wife, Mary, died on August 9, 1884, possibly from a brain tumor. Edison remarried to Mina Miller on February 24, 1886, and, with his wife, moved into a large mansion named Glenmont in West Orange, New Jersey.
What was Edison's personality like?
Throughout his life, he struggled socially —his lack of charm and gruff manner resulting in having few close friends. In short, the real reason he developed a habit of locking himself away in his lab was that couldn't stand interacting with most other people.
What kind of person was Thomas Edison?
Thomas Alva Edison (February 11, 1847 –
What did Thomas Edison like to do as a child?
"Al," as he was called as a boy, went to school only a short time. He did so poorly that his mother, a former teacher, taught her son at home. Al learned to love reading , a habit he kept for the rest of his life. He also liked to make experiments in the basement.
What are some character traits of Thomas Edison?
One of the most famous and prolific inventors of all time, Thomas Alva Edison exerted a tremendous influence on modern life, contributing inventions such as the incandescent light bulb, the phonograph, and the motion picture camera, as well as improving the telegraph and telephone.
What kind of person was Edison?
Thomas Edison was an American inventor who is considered one of America's leading businessmen and innovators. Edison rose from humble beginnings to work as an inventor of major technology, including the first commercially viable incandescent light bulb.
How would you describe Thomas Edison?
His mother, a former teacher, taught him a few things, but Thomas was mostly self-educated. His natural curiosity led him to start experimenting at a young age with electrical and mechanical things at home. ... He got his first patent in 1868 for a vote recorder run by electricity.
What happened to Thomas Edison's first wife?
Although many books say that Mary died of typhoid , her death certificate states that she died of "congestion of the brain." Mary and Thomas Edison had three children in their 13 years of marriage.
Did Thomas Edison marry a 16-year-old?
Although Edison was a sharp bargainer, he was a poor financial manager, often spending and giving away money more rapidly than he earned it. In 1871 he married 16-year-old Mary Stilwell , who was as improvident in household matters as he was in business, and before the end of 1875 they were in financial difficulties.
Did Edison remarry?
Edison remarried to Mina Miller on February 24, 1886, and, with his wife, moved into a large mansion named Glenmont in West Orange, New Jersey.