Practical jeans have imperceptibly migrated into our wardrobe, taking their rightful place as one of the favorite components of casual bows. The secret to their success lies in their versatility. Denim trousers are organically combined with almost any clothing, but a men's jacket under jeans looks the most impressive.
This tandem is distinguished by emphasized elegance and incredibly interesting. With the right approach, it can be appropriate anywhere. And there is nothing difficult in creating attractive ensembles with a jacket and denim trousers. The main thing is to stir up a cocktail of your imagination rich in flavors in time, carefully adding here a pinch of existing knowledge on style and fashion trends. Still in doubt about your abilities? Then a few of our recommendations will help you create an incredibly effective, moderately discreet, romantic or bright bow. Be the first to know about them!

How to choose jeans correctly?
A successful look is not just a combination of things of different styles. After all, the success of creating a "catchy" not only attention, but also the soul of those around the set can be compared with the choice of an expensive car for your beloved. What attracts you the most about the "iron horse" at first sight? Design and color, of course! But it also has a special weight and what you buy a car for, where you are going to drive it - work, shopping, hunting, off-road driving, sports racing. The situation is almost the same with the selection of clothes.
For workwear and evening looks, opt for classic jeans. Everything should be moderately strict and concise. It is better to limit yourself to models without decor. Optimal is black, dark gray, white, or a noble shade of indigo.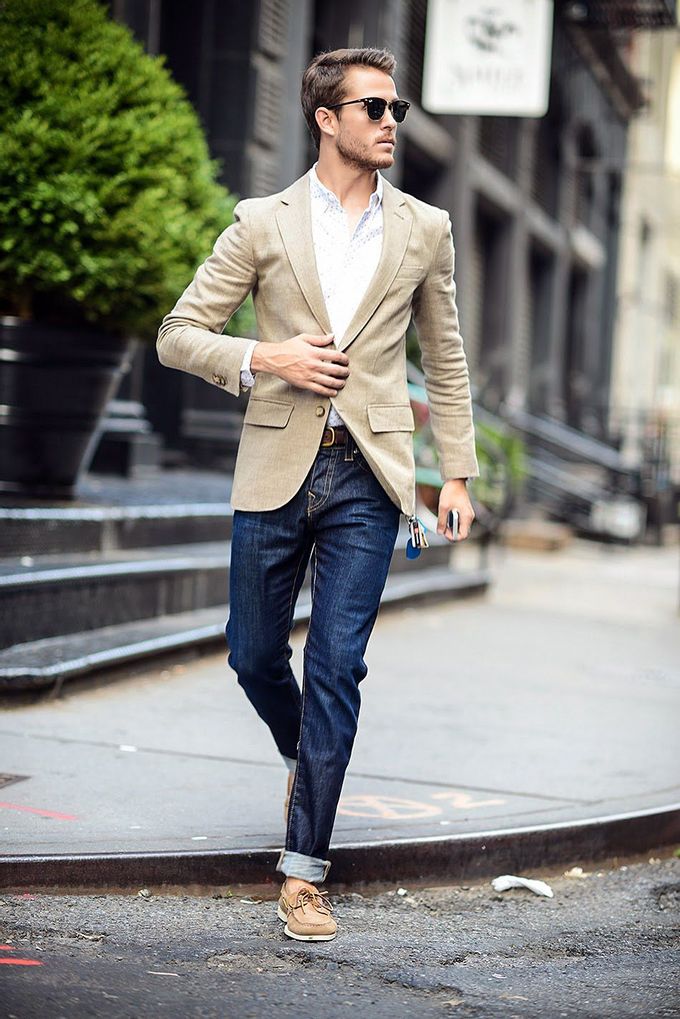 For everyday style, ripped trousers with prints, embroidery and an extraordinary cut are relevant. They will make the image memorable, becoming a bright accent that is guaranteed to attract the attention of others.
Which jacket to choose?
A slightly cropped jacket will make a decent pair of jeans. The ideal length is when its hem barely covers the pockets on the trousers. Models with unusual cut details, bright colors, and the presence of original decorative trim are suitable here.
The style of companion items also matters. Sets should be harmonious, and their components complement each other in texture and color. The "jacket for jeans" combination refers to casual, not formal or classic wardrobe. Therefore, there is no place for a "front" top, be it a tailcoat or a tuxedo. The ensemble "jacket + vest" is also absent from the list of favorites, unless the latter is made of jersey. Eliminate overly strict cut and combinations!
Keep an eye on the fabric of your chosen jacket. An effective option for an evening out will be textured models made of velvet, velor, jacquard. These can be models with an extraordinary decor on the collar, along the edges of pockets or sleeves.
On weekdays, more laconic solutions are appropriate. For example, fitted or straight cut sports, club jackets, including options with patches on the elbows. Classic models are also suitable. The main thing is that they do not look too formal in the kit.
It is better to avoid jackets of an overly strict cut, as well as from flowing textiles or with a shine effect!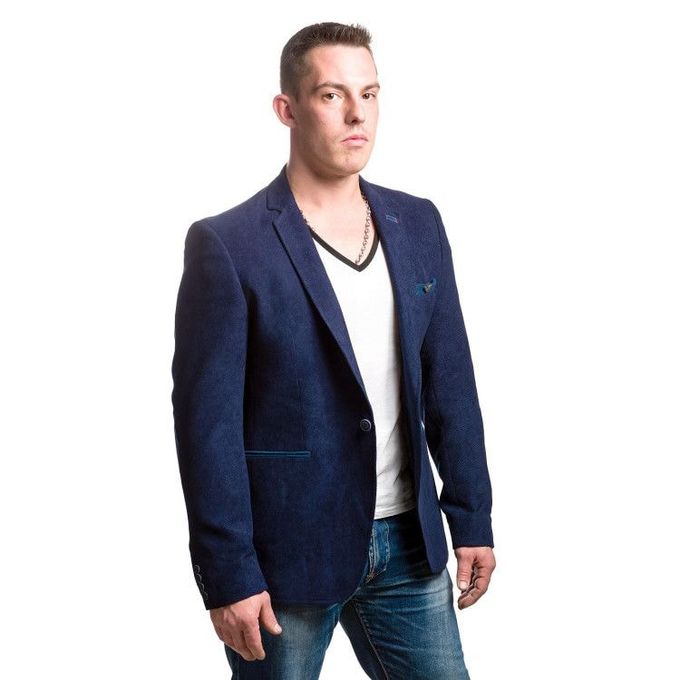 For the warm season, options from flax, fabrics with a high content of cotton, knitwear are suitable. They are very organic in sets featuring jeans. From autumn to spring, jackets made of wool, corduroy, tweed are relevant. They can also have inserts in other fabric or leather.
Men's jacket under jeans: where to wear, what companion items to choose?
Always consider where you plan to wear your outfit. The reason for the visit should not be ignored, it also matters. Your choice of companion items depends on these two components, as well as the achievement of success in drawing up a successful bow.
Work
Give preference to slightly fitted blazers with a laconic design. Classic options are also appropriate, but then they should not look too formal. By the way, the presence of a tie in the ensemble "jacket for jeans" is optional.
Employees of creative agencies and representatives of creative professions may well pay attention to shirts in a large cage or with a floral pattern. For workers with more limited dress code, I recommend choosing plain colors or pinstripes. Avoid using shirts with catchy prints. Better to create an accent with loose colors of clothes. Think of blues, pinks, grays, and pastel colors. Be guided by these when choosing a shirt for the job. But I emphasize that this applies only to bows in the style of business casual, casual, smart casual.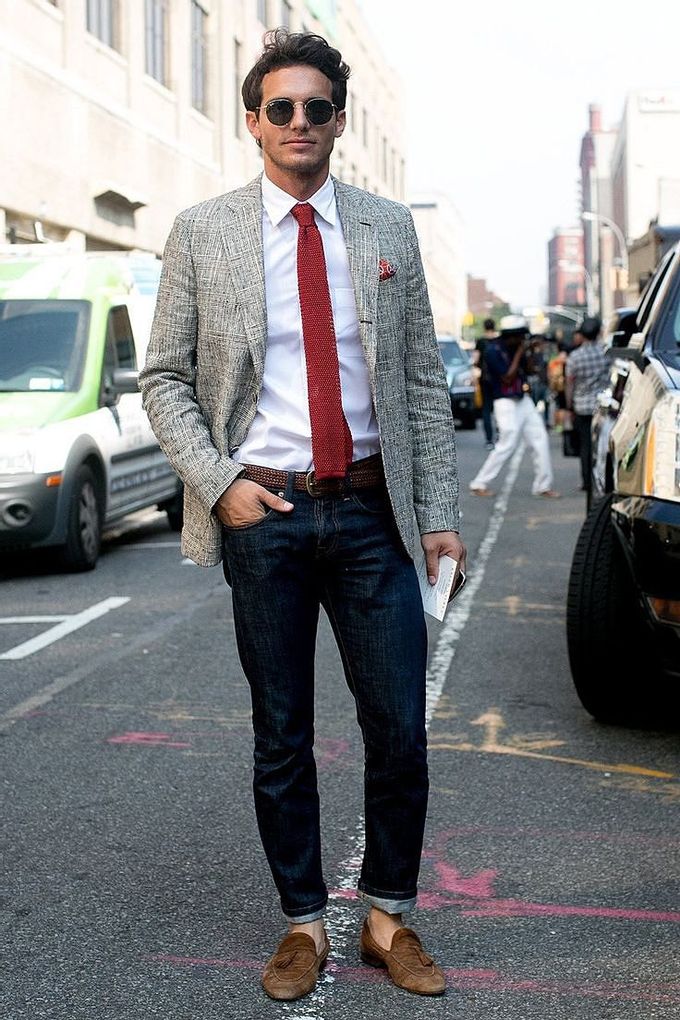 Those who are fed up with shirts can be offered to replace them with more comfortable turtlenecks. Do you want to add some frivolity to the image? Wear a practical long sleeve! Just don't overdo it with colors and catchy accents. Everything should be in moderation.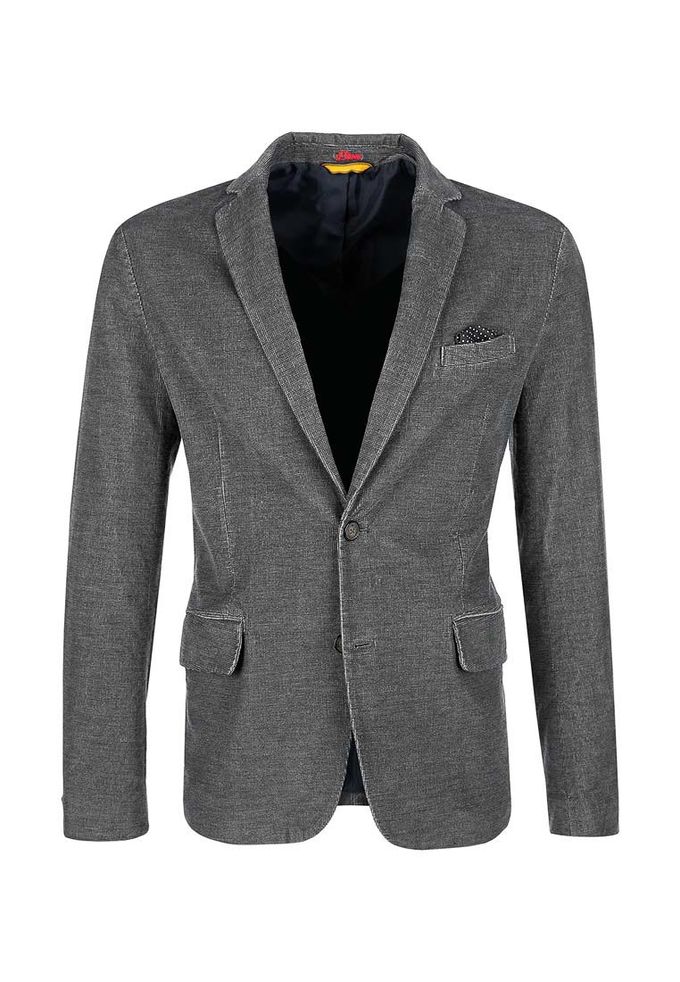 BUY IN PARTNER STORE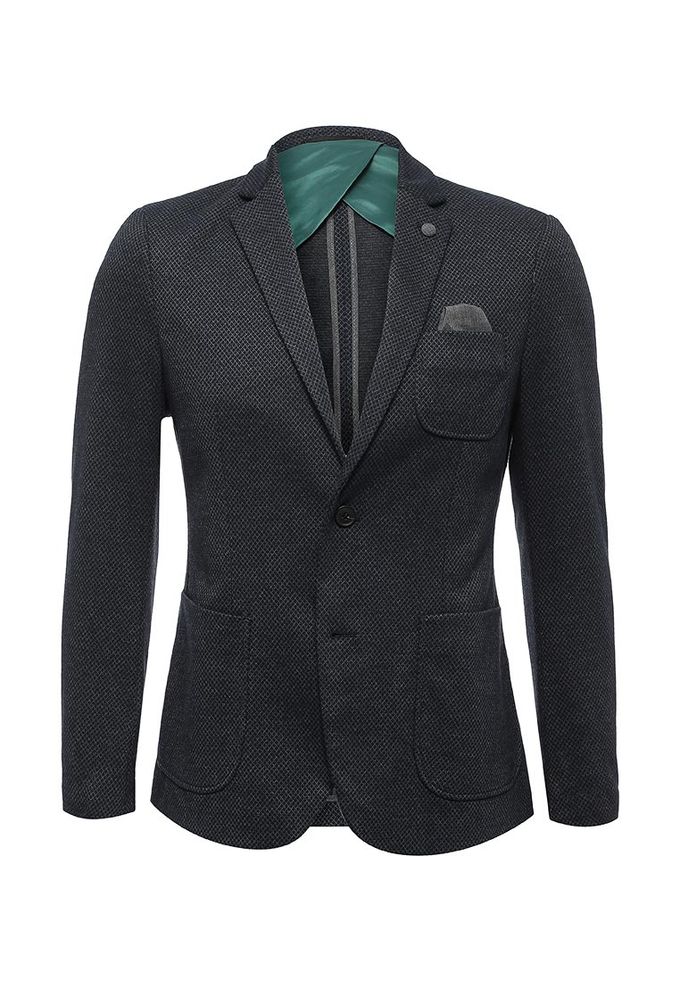 BUY IN PARTNER STORE
Leisure
Do you know what is the main advantage of a combination of a jacket with jeans? After work, you don't have to worry about what to wear to a party with your friends. Just replace your shirt or turtleneck with a more democratic long sleeve or even a brightly printed T-shirt. This step is already enough to look 100%. The rule is this: to create a new set, it is enough to change only one thing worn under a jacket. Be stylish and make yourself as comfortable as possible!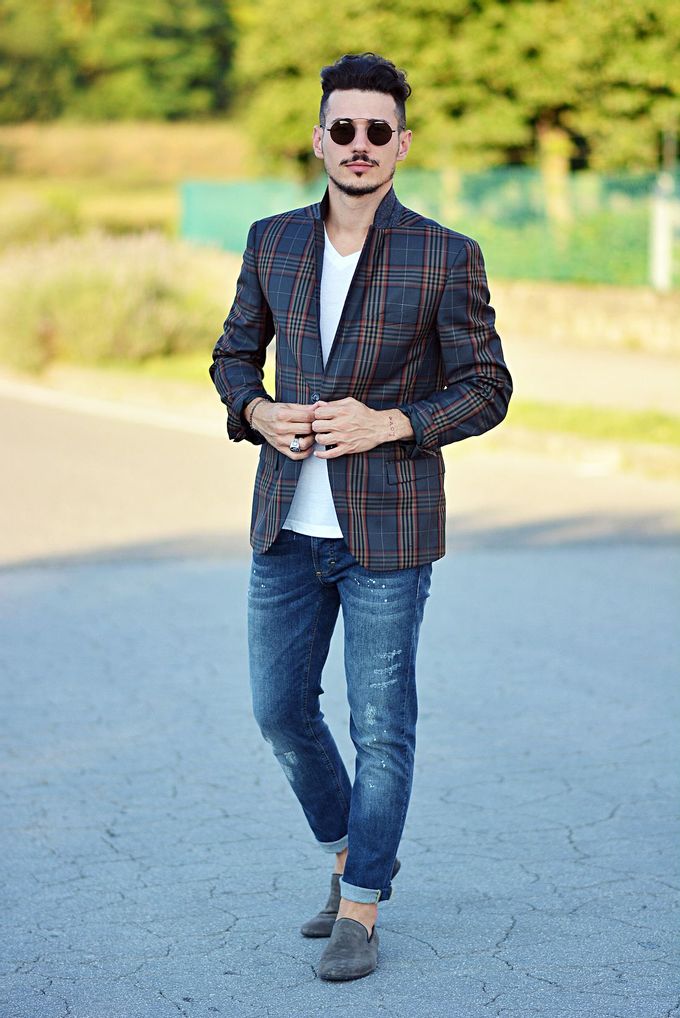 For shopping or an afternoon meeting in a cafe, a catchy shirt in a large cage is quite suitable. Play on contrasts! Add a discreet jacket with patches on the sleeves. Have you noticed the women's looks riveted on you?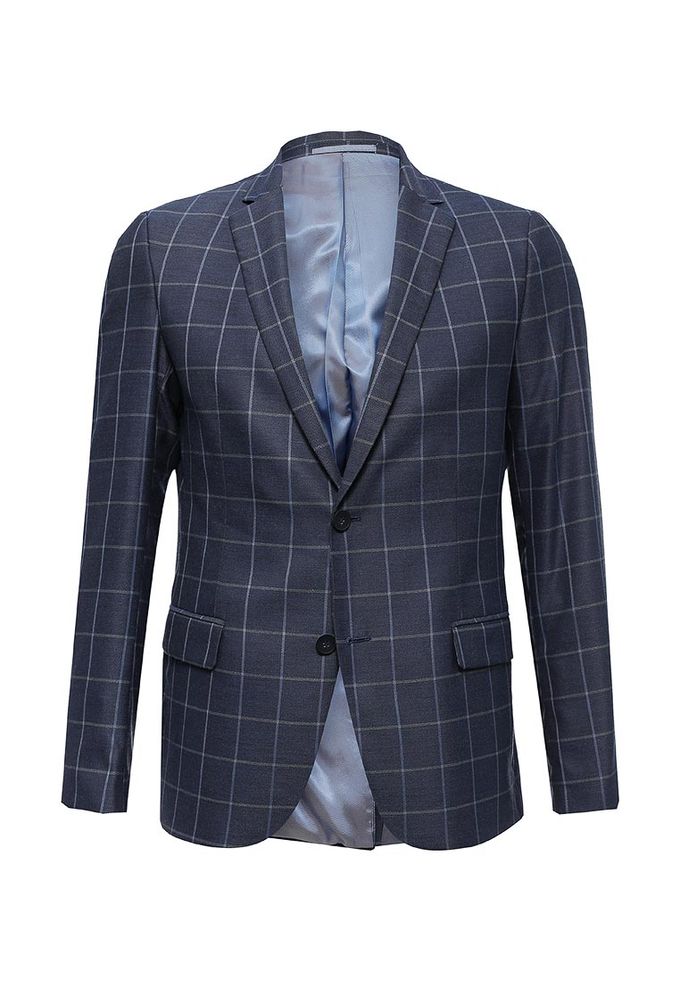 BUY IN PARTNER STORE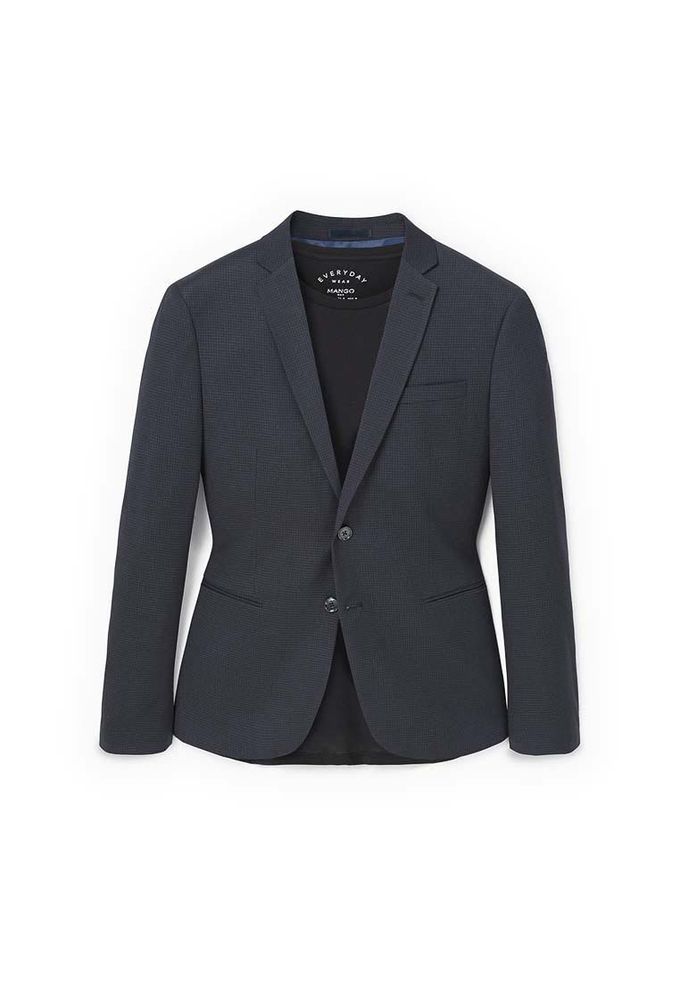 BUY IN PARTNER STORE
Is it fresh outside? Wear a clean-cut, plain jersey under your sports blazer. This option is organically combined with a shirt and turtleneck. Ripped jeans are suitable for the first, the classic indigo denim trousers are more impressive for the second. But this is a matter of personal taste.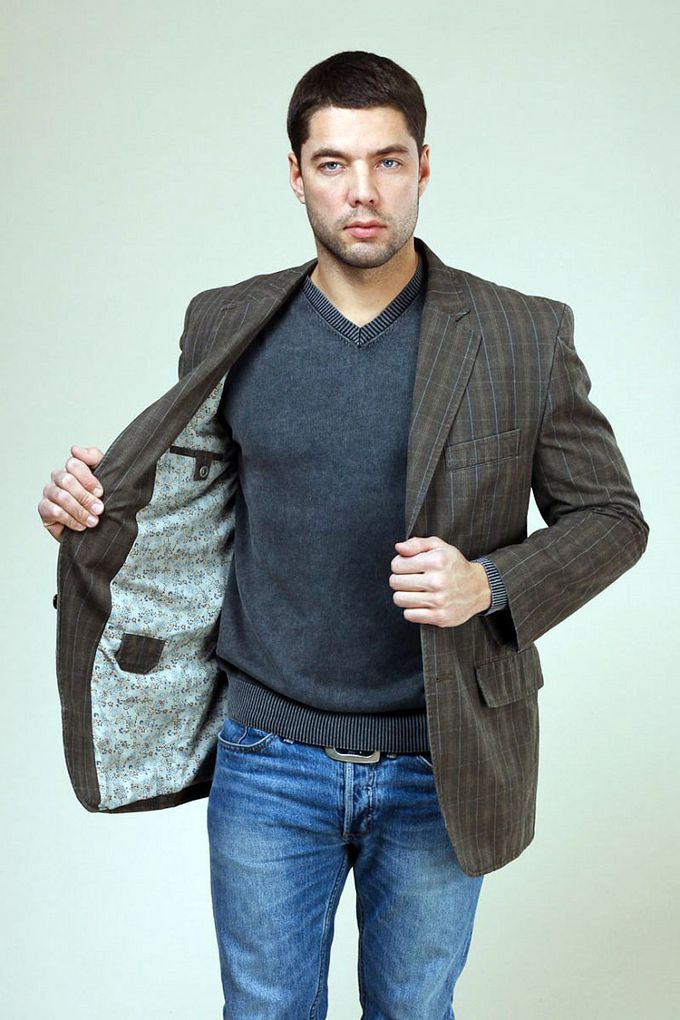 Do not deny yourself the pleasure of experimenting with layering. A cardigan worn under a jacket? Why not!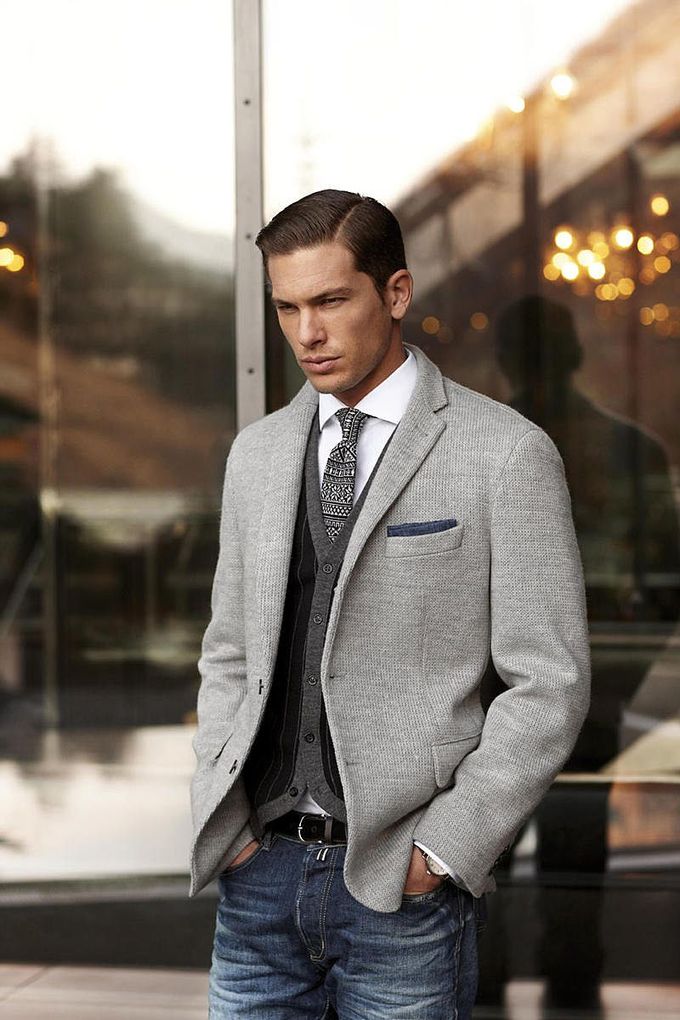 A party
Here you can make an exception and wear a textured or printed jacket under jeans. But try to avoid outrageous models, preferring more elegant solutions. If we talk about the ideal option, then the club jacket is what you need!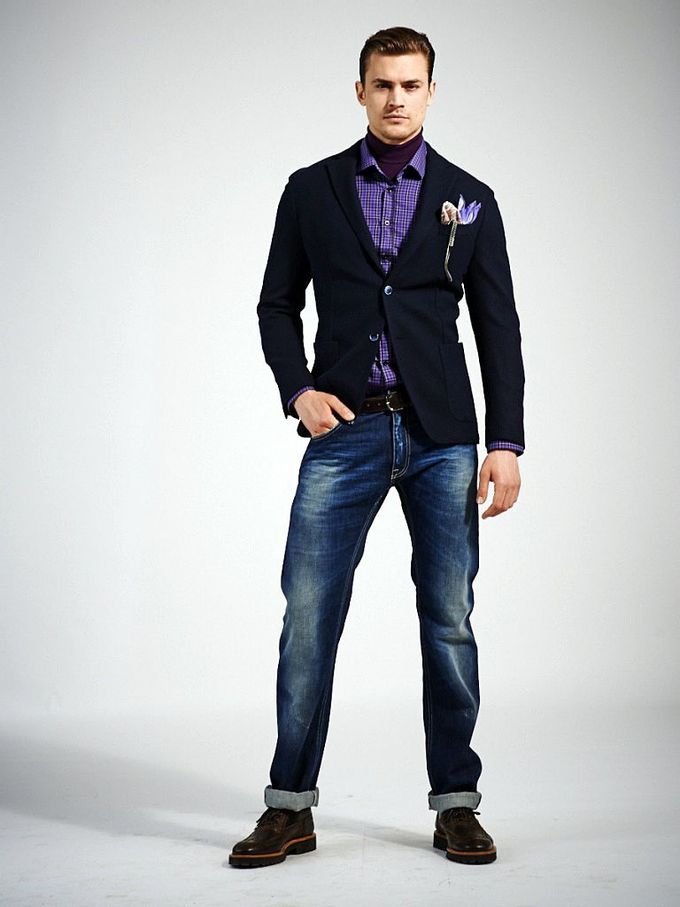 For an informal party in a narrow circle or a party in a nightclub, a T-shirt is suitable (of course, I do not take into account the Christmas ball, the official reception at the minister or, God forbid, the presentation of a well-deserved award by the head of state). But at more serious events, you still cannot do without a shirt. Unbuttoning a pair of top buttons on a shirt is perfectly acceptable. This will give your image a touch of masculinity and self-confidence.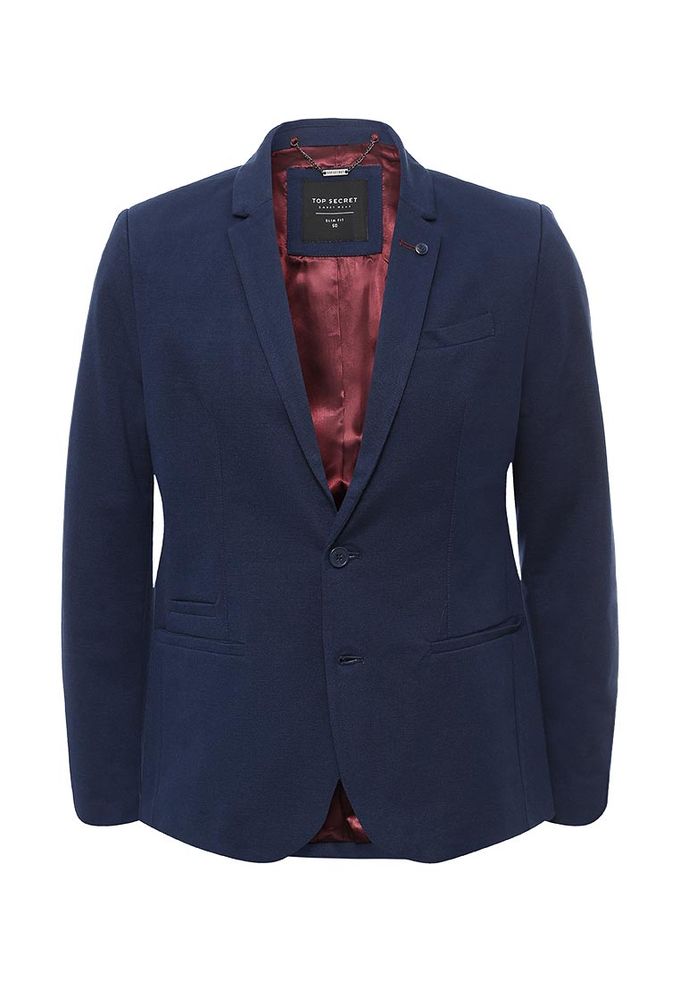 BUY IN PARTNER STORE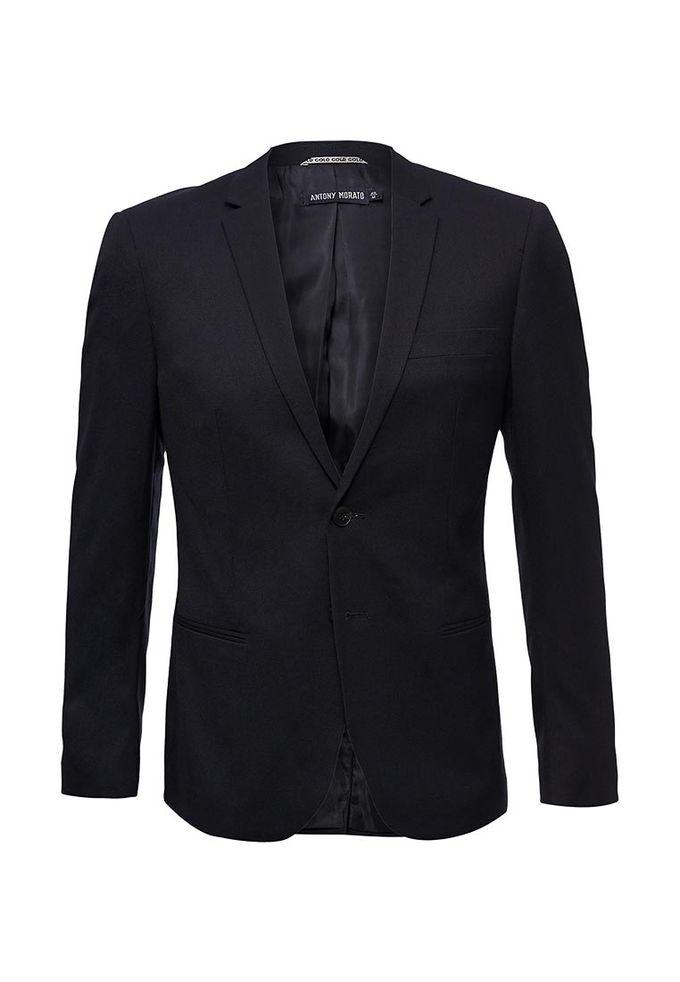 BUY IN PARTNER STORE
Finally
A jacket for jeans looks quite extraordinary and impressive. Therefore, it is so important to choose worthy companion things for him that will balance the image. In addition to clothing, some attention should be paid to shoes. In a work environment, strict classic shoes are appropriate. Optionally black, you can opt for a brown, blue or green pair of derbies. The main thing is that the shoes are in harmony with the shades of other components of the bow. Use the same choice when packing for an evening event. The exception is informal friendly parties, parties in a nightclub, romantic dates in a cafe. It is quite permissible here to use shoe styles that are relevant for everyday sets: loafers, topsiders, deserts, moccasins.
And don't forget about accessories! After all, they are the "highlights" that make the image really stylish, original, memorable and complete. Choose from: men's bracelets, wristwatches, belts, hats, bags, sunglasses, hats. And remember about harmony in the image!
Do you like the combination of a jacket and jeans? Write your opinion in the comments, it is very important for us. Good luck!