How much money do you need to spend on clothing to create an attractive, tasteful, stylish male look? Don't rush to spend money on expensive brands and luxury wardrobe items. It is enough to correctly combine the simplest elements: an interesting T-shirt with a blazer on top; nice dress boots and fitted navy blue selvedge denim jeans rolled up at the bottom.
It would seem that such a small detail as a cuff on jeans can greatly improve your appearance in the eyes of others. And, if you can buy clothes in a store, then you will learn how to tuck jeans in detailed diagrams in 6 ways, you will learn to. Go!
The fashion for rolled up jeans or other pants appeared relatively recently, around the 90s of the last century in America. Until that time, jeans cuffs served rather as a function to keep them clean from dirt or to save them from the heat by making shorts out of jeans. They also tucked their jeans when they rode a bicycle. Probably, and you more than once had to cling to the sprocket on your bike with your jeans when pedaling.
Today, the fashion for rolled up jeans is experiencing its "renaissance", so to speak. Most young people prefer to wear jeans or chinos as opposed to dress pants or sweatpants. The rolled up pants are well entrenched in their heads as a stylish element among young people. The older generation rarely folds up jeans, except that in Europe I saw old people who wore chinos with cuffs. At the same time, they only had moccasins or top-side shoes.
Which pants are best to tuck
In my opinion, cuffs look best on dark blue selvedge denim jeans, slightly fitted but not skinny. Plus, chinos or hakki pants look good with thin cuffs.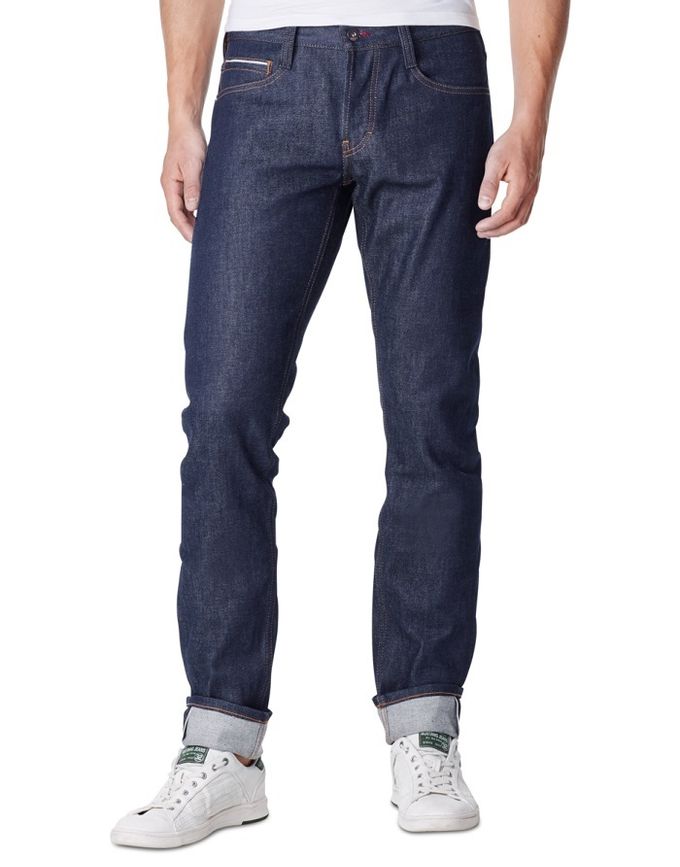 Buy on partner website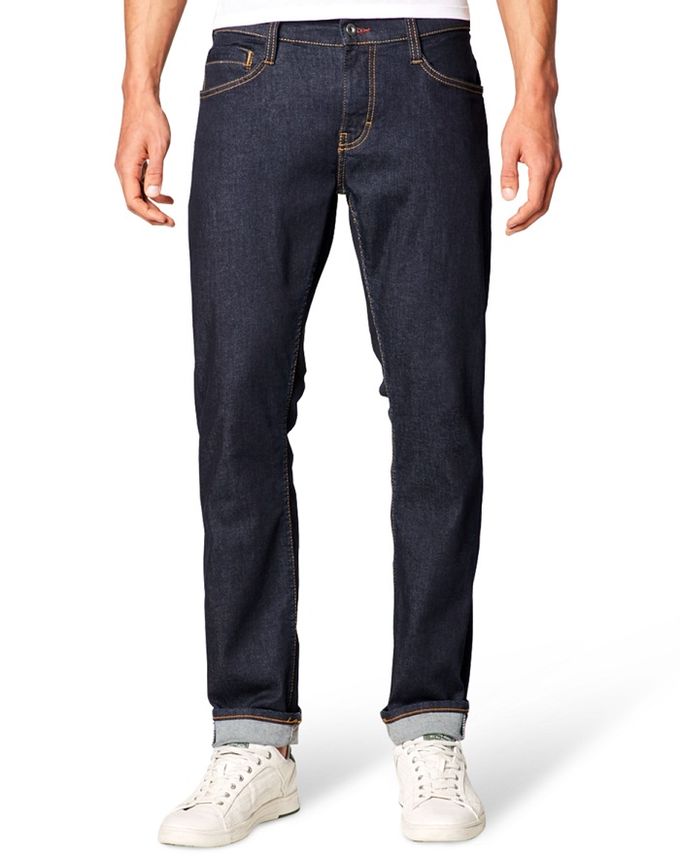 Buy on partner website
It is definitely not worth tucking in classic trousers, sweatpants, linen pants and others.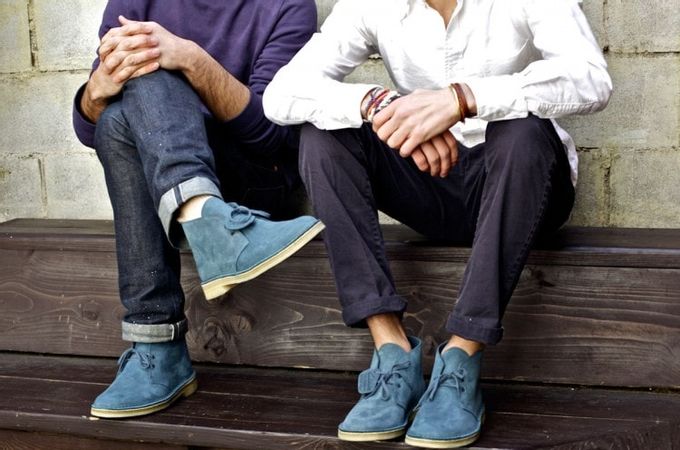 Should you buy jeans that are longer if you are going to fold them up often? Yes and no. It all depends on which shoe you prefer and what style of cuffs you like / suit best. If you prefer to wrap your pants 3-4 times and wear short boots, then yes, it is better to buy jeans longer. When buying new jeans, try to make cuffs and imagine at what level the boots will be, so you can choose the length.
What you should pay attention to
First of all, the length of the jeans and your shoes. After you tuck your jeans in and make the cuff, the bottom edge of your pant leg should be flush with or just below the top of your boot. That is, when you are standing straight, the cuff should end and the boot begins immediately. Socks should not be visible, the exception is when you are sitting or want to show freaky colored socks. Accordingly, when you put on brogues, the hem should be lower than when you put on high classic boots or timberlands.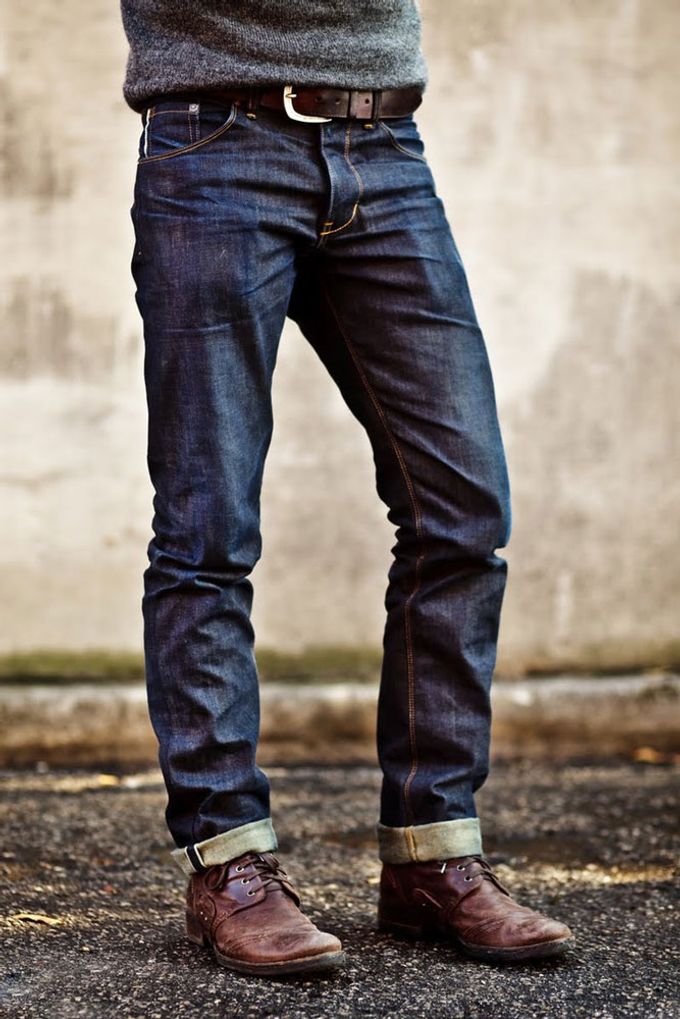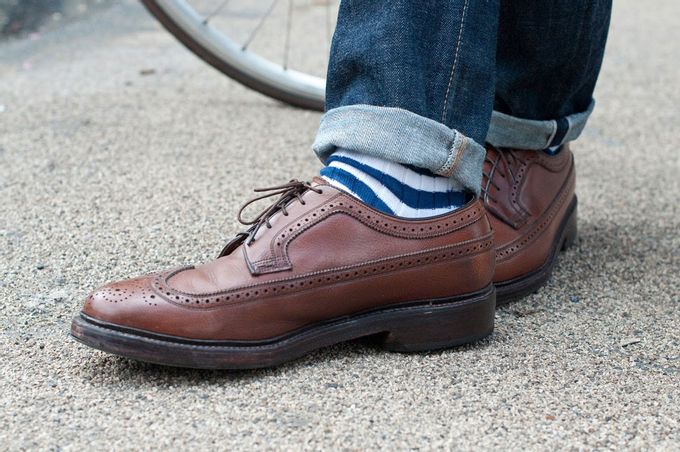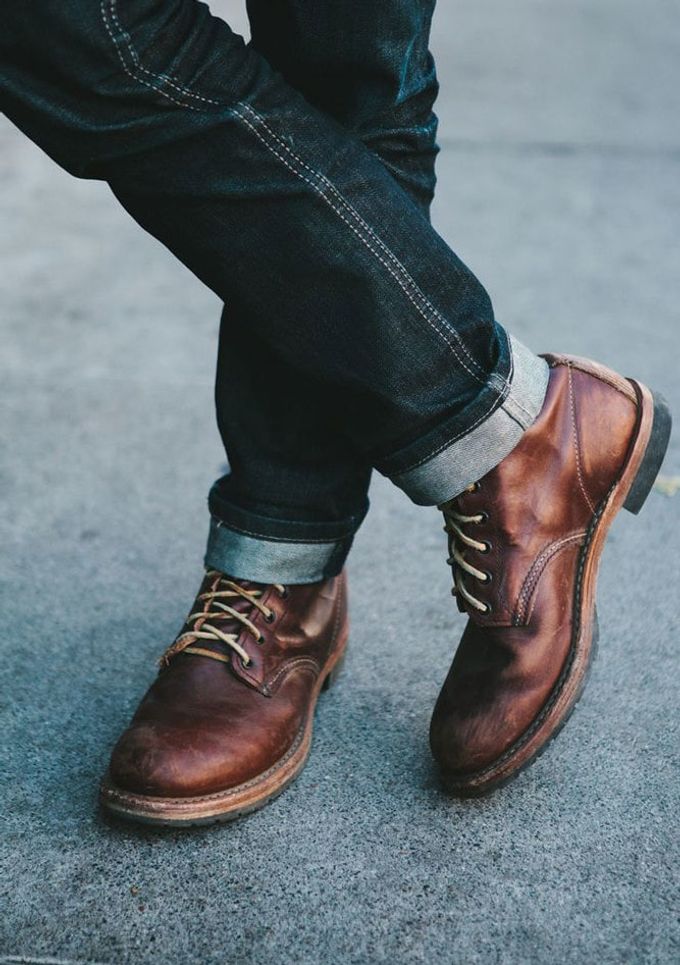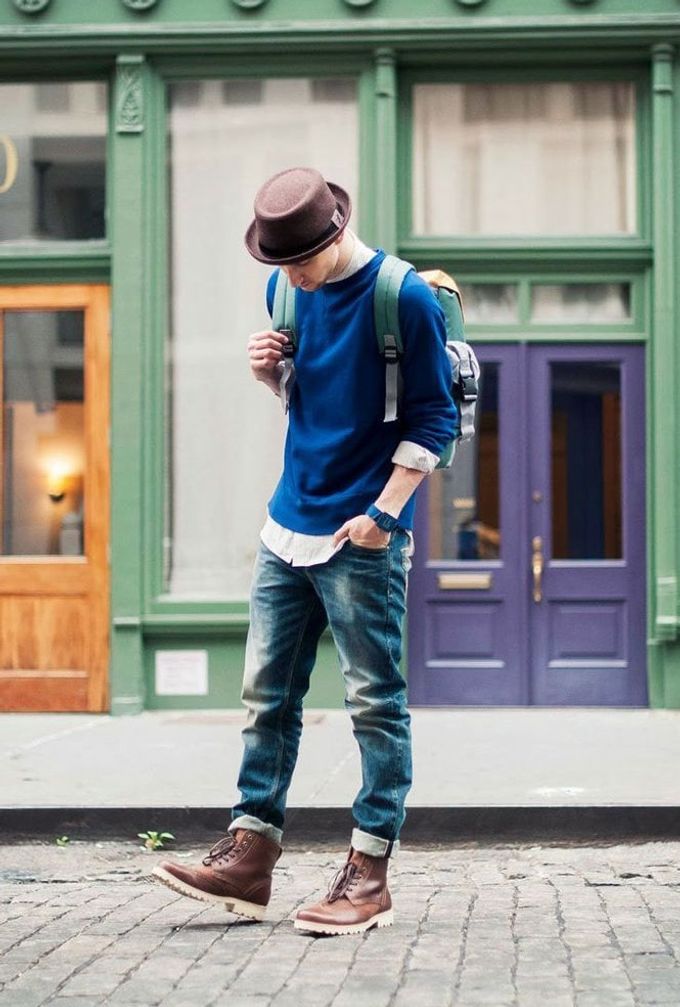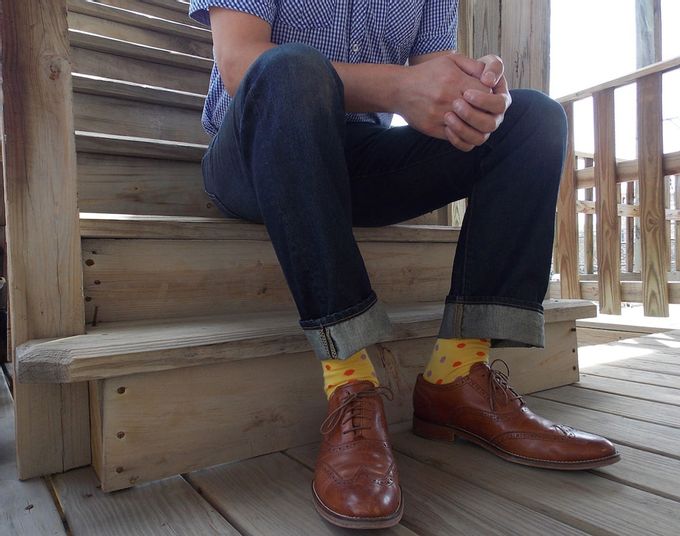 And one more thing about your height. The lower the person, the narrower the cuffs he should do. The logic here is simple - narrow cuffs are better combined with the proportions of a short man than wide ones.
6 ways to tuck jeans or chinos
The most popular ways to tuck jeans or chinos are:
regular cuff, wrapped once;
wide cuff 4-5 cm thick;
thin cuff folded 3 times and 1-1.5 cm wide;
double cuff folded twice and 2-3 cm wide.
tapered cuff
casual cuff.
Regular cuff
A regular cuff on jeans or chinos is created by tucking the leg at the same time at the level of 2-2.5 cm.
How to tuck a regular cuff: fold the bottom of the leg once at 2-2.5cm. depending on your style or the height of your pants.
Which pants will suit: any jeans or chinos.
What shoes are suitable: classic boots, chukka boots, any other wide shoes.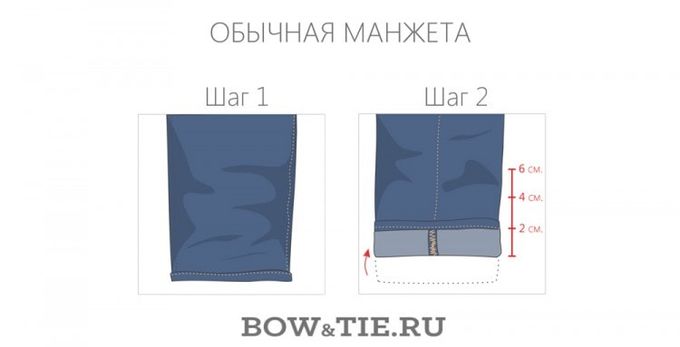 Wide cuff
A wide cuff is an analogue of a regular cuff, but its width is formed at the level of 4-5 cm. Men with small stature should refrain from this style of cuffs, as jeans risk turning into breeches.
How to tuck the wide cuff: fold the bottom of the leg once at 4-5 cm, depending on your style or the height of the pants.
Which pants will suit: slightly fitted jeans or jeans with a hem (selvedge denim). I wouldn't tuck chinos with a wide cuff.
What shoes are suitable: high and massive boots, work boots.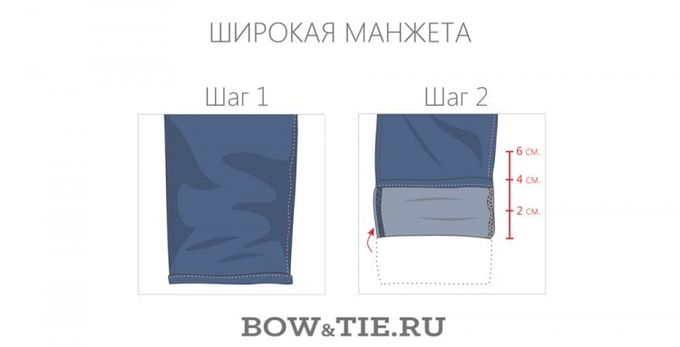 Thin cuff
A thin cuff is a rolled up leg 3 or even 4 times, the width of which does not exceed 1-1.5 cm.
How to tuck a thin cuff: Roll up the leg 3 or 4 times in small increments, no more than 1 cm.
What pants will it fit with: skinny jeans, which will be problematic to roll up in another way.
What Shoes Work: Lightweight shoes such as moccasins, sneakers, trainers or sandals.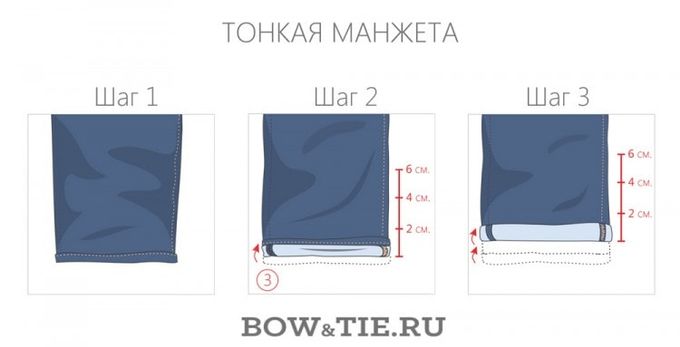 Double cuff
The double cuff, as the name suggests, folds 2 times. The usual width is 2-3 centimeters. Its peculiarity is that you will not see the edge of jeans, which is usually done with bright stitching. Instead, only the inside will be visible, without unnecessary details.
How to tuck the double cuff: tuck the bottom of the leg to a height of 2-3 cm, then again at the same width. Carefully smooth out any wrinkles or bumps.
Which pants will suit: wide and slightly skinny jeans. Not suitable for skinny jeans, as the leg is likely to overtighten.
What shoes are suitable: classic suede derby, topside shoes, chukka boots, trainers, sneakers ...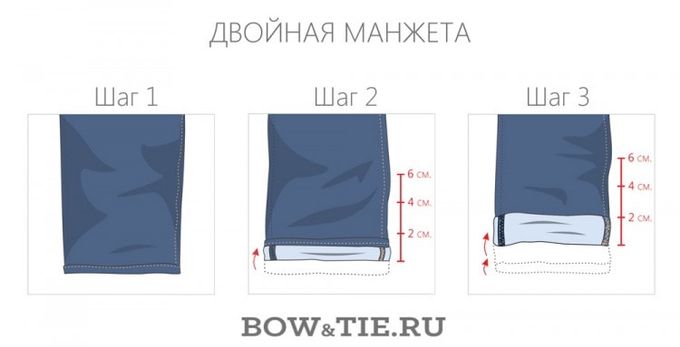 Tapered cuff (Pinroll)
The tapered cuff differs from all the others in that the excess denim is folded into 2 layers, and then tucked up 2 times at a level of 2-3 cm.
How to tuck in a tapered cuff: Pinch off any excess denim at the bottom of the leg. Fold over the excess fabric towards the leg and wrap it 2 times so that the pant leg locks into place.
With what pants it will fit: only with wide jeans, so that there is a surplus of fabric.
What shoes are suitable: boots, sneakers, sandals, slippers.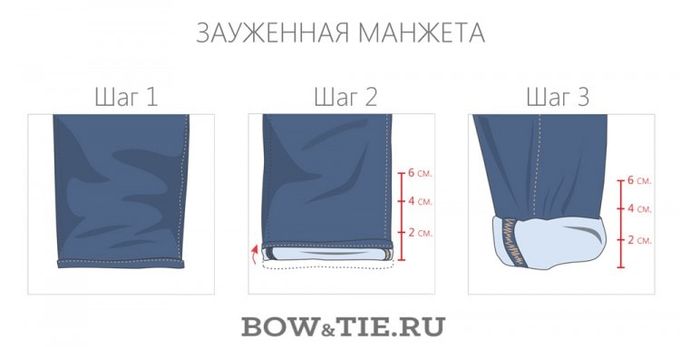 Casual cuff
The cuff on jeans, by definition, is appropriate in a casual style, but this method is the most informal.
How to tuck in a sloppy cuff: Fold the bottom of the leg 4 times, 3-4 cm wide.You should have your jeans rolled up just under your knees and look like shorts. You can roll up carelessly, without especially correcting the folds.
What kind of pants it will fit with: the wider the pants, the easier it is to roll them up 4 times.
Suitable Shoes: Summer lightweight shoes such as trainers, moccasins, topside or sneakers.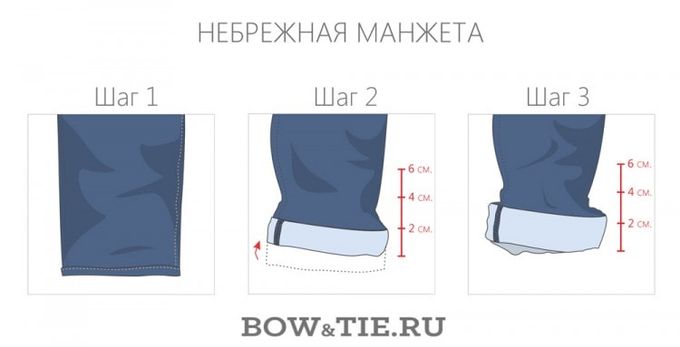 Finally
As you can see, there are no difficulties in forming cuffs on jeans. The main task is to choose the style of the cuffs for your height, the model of jeans or pants, as well as boots. As always, we welcome your comments and questions!