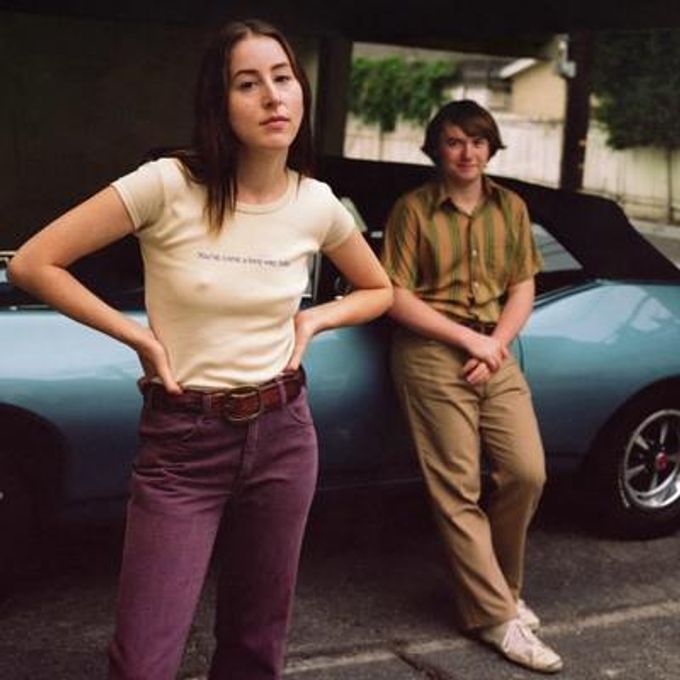 The comedy drama Licorice Pizza is released in Russian cinemas on January 13, 2022. Director/Writer: Paul Thomas Anderson. Cast: Cooper Hoffman, Alana Haim, Sean Penn, Tom Waits, Bradley Cooper, Benny Safdie and others.
It seems an injustice on a universal scale that Paul Thomas Anderson is still the only living, actively creating masters of American auteur cinema, whom for some reason we still can't fall in love with. Not a single retrospective or special screening of any outstanding film by the director (and his entire filmography consists exclusively of such) for many years, although on the old films of his colleagues - Tarantino, namesake of Wes, Linklater. Jarmusch - several times a year you can definitely stumble upon in Russian cinemas. But our viewers can dream not only about revising "Oil" or "Magnolia" on the big screens, watching with what gnashing Anderson's new works get to the Russian box office. Take his newest film, Licorice Pizza, for example: no advertising from the distributor, all trailers and posters without a release date, as if it were one big secret. But this picture could be exactly that ideal entrance to the world of the strange, but fascinating cinema of Paul Thomas Anderson for all those who have not yet had a chance to discover it for themselves.
It is even sadder to realize that with such a weak advertising campaign, the release is almost in the midst of the New Year holidays, when cinemas are littered with snowdrifts of bad Russian cinema and the leftovers of the European film industry left over from last year's table, it comes out. Without any doubt, one of the best films of the year, which few people know about. But, as they say, thanks at least for the chance to see Paul Thomas Anderson's ninth film on the big screen - after all, this is not a movie, but two hours of sheer pleasure, taking the viewer to the glorious American 70s, where sugar was sweeter, music louder, but life more interesting.
This story is about a crushing love between schoolboy Gary Valentine (Cooper Hoffman) and his much older Alana (Alana Chaim). A ten-year age difference does not become an obstacle to the beginning of a strange, extremely unusual relationship between an aspiring actor and an assistant in a photo studio, but, on the contrary, instantly gives them a special specificity. He wants to break into Hollywood, but something is not going according to plan, and she is a little lost, like all twenty-five-year-olds, no matter what era they live in. Both find themselves in an adventurous joint venture: Gary and Alana start trading the season's biggest hit in California - waterbeds that dramatically turn the lives of the heroes into a stream of unpredictable adventures through the San Fernando Valley.
For Anderson, Licorice Pizza is not only the most romantic, summery, light and lyrical project in filmography, it is also the most personal. Following in the footsteps of Tarantino, who transformed his own memories into an ode to the Hollywood of his youth, the director of The Master does almost the same thing, but, of course, with completely different accents. He turned out to be a spiritual follower of "Love knocking down" with notes of frivolity "To each his own!" Linklater and "Almost Famous" Crowe. PTA was born and still creates in the beloved San Fernando, constantly placing the events of its films there. After a historic immersion in the sophisticated London of the 50s in Phantom Thread, Anderson returns home, and even in the best decade - in the warm and seething 70s. He was always haunted by this era, but all early attempts to plunge into it turned out to be only indirect: "Inherent Vice" was more about the late 60s, and "Boogie Nights" in a lot about that. What impact did "such 70s" have on all subsequent decades in the history of American society. And here is the very juice, the very quintessence of the seventies, from which, if not diluted, it is very easy to get drunk.
The music played a big role in the portrait of the decade (licorice pizza is, after all, the second name of the vinyl record): the voices of Bowie, McCartney, Morrison accompany the heroes everywhere, whose winding adventures are another metaphor for the diverse. The carefree and unpredictable life of young people, whom Paul Thomas Anderson selflessly confesses his love for. His film is full of micro-plots and charismatic episodic characters, sometimes performed by very famous actors. Bradley Cooper shines as Barbara Streisand's husband in what is arguably his career-leading comedy role, Sean Penn and Tom Waits jump in brightly to add some edginess and action to the film. Although "action" is a concept peculiar to PTA films: in "Oil" it is simply an episode with an explosion of an oil rig, and here it is a scene of crazy in all respects driving backwards on a huge truck, from whose ingenuity is dizzying.
Both Alana Chaim and Cooper Hoffman are debutants in big cinema. Both are brilliant. The son of the late Philip Seymour Hoffman, sometimes reminiscent of his father to the point of pinching in his heart, beats Michael Gandolfini by a wide margin on the field of an unspoken duel of the sons of two legendary American actors debuting in the cinema. Cooper, if he's lucky, will successfully follow in his father's footsteps, because in "Pizza" his talent is visible to the naked eye, however, like Alana Haim, one of the three sisters of their musical group Haim, for which PTA has been filming clips for several years. Alana, like Seidi Haarla from "Compartment No. 6", catches with her atypical appearance, maximum naturalness in the frame (her heroine not only bears her real name, but also from a Jewish family), which gives the impression. That both Cooper and Alana are doing something more than just acting on the screen. They live on the screen as if reality no longer exists. Paul Thomas Anderson once again created his own reality, in which you so much want to get lost for a little longer than two hours. Perhaps even forever.
Things to know (Q&A)
What is the movie Licorice Pizza supposed to be about?
While their ever-evolving relationship provides the framework for the film, "Licorice Pizza" is really about this young woman's journey of self-discovery: trying out different jobs and clothes, different priorities and personalities, and seeing what fits
Is Licorice Pizza a good movie?
Licorice Pizza is very much like Magnolia in that it follows the characters' daily lives in the San Fernando Valley. Though this new film is more realistic since there are no frogs falling out of the sky, Licorice Pizza is still an outrageous and enjoyable film that features Anderson at his finest. 3 days ago
Is Licorice Pizza a true story?
Set in the early 1970s, the Licorice Pizza true story elements are also based on the real Hollywood-set memories of director Paul Thomas Anderson and his friend Gary Goetzman. ... Known for forming the band HAIM with her sisters, Alana's entire family is in Licorice Pizza where they essentially play themselve
Why is movie called Licorice Pizza?
As the film is set in California in the 1970s, the director eventually settled on a title that evoked that time period for him. He explained: " Growing up, there was a record-store chain in Southern California called Licorice Pizza . It seemed like a catch-all for the feeling of the fil
What is the point of Licorice Pizza?
"Licorice pizza" is a slang term for a vinyl record . The shiny black color of most records does resemble licorice candy, and it's a round shape comparable in size to a small pizza. The Licorice Pizza chain of record stores in Glendale, California opened in the '70s.
What does the title Licorice Pizza mean?
Licorice Pizza is actually named after a famous SoCal record store that existed in the late '70s and '80s, according to Thrillist. The term is also slang for vinyl records , which have the appearance of shiny, black licorice and are the size of a small pizza.
Is Licorice Pizza autobiographical?
The best example of Chekhov's gun I've seen in a while is in Paul Thomas Anderson's new film, "Licorice Pizza." The movie, set in the filmmaker's native San Fernando Valley, in the early nineteen-seventies, is a partly autobiographical , pugnaciously romantic coming-of-age story for a teen-age actor and a hectic trip of ...