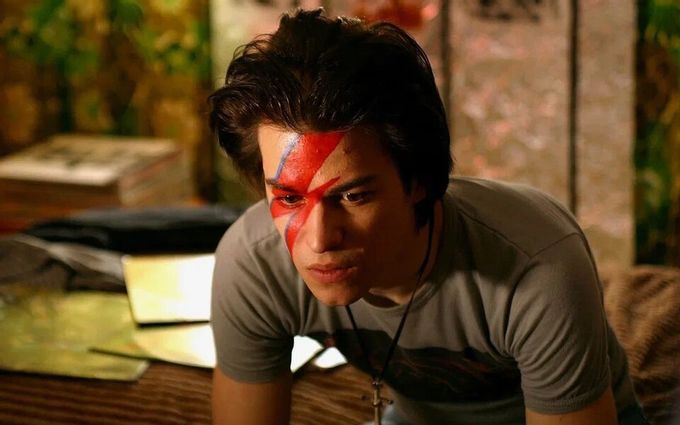 The Poseidon Adventure (1972)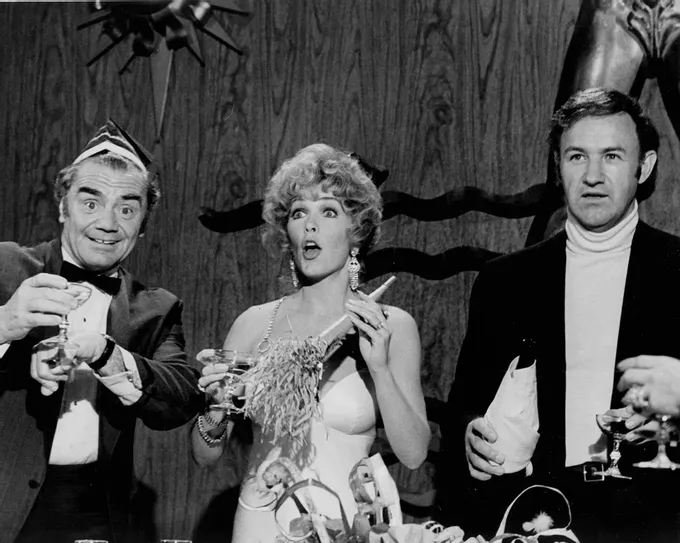 Alamy Legion Media
Disaster movies, oddly enough, are also festive. Before us is one of the best representatives of the genre, and it is all the more surprising that almost no one has seen him (there has not been a single release comparable in terms of the strength of the production for a couple of decades). A quarter of a century before the Titanic, a large ship, this time fictional, crashes, and right at the time of the New Year's party - the ship capsizes, passengers in festive toilets find themselves on the ceiling and try to climb out to the surface along a collapsed Christmas tree. Now, of course, they don't shoot like that, because such entertainment issues are solved by special effects, and they have not been impressive for a long time. Here, first of all, human stories are important - a team of people who are not ready for a self-rescue operation, sacrifice themselves and each other. In a small role as a conscientious captain - a young Leslie Nielsen. Composer - the brilliant John Williams ("Star Wars", "Harry Potter", "Jaws"). There are already three remakes of this picture, but it is better to find the original 1972 - this is a treasure.
The Silent Partner (1978)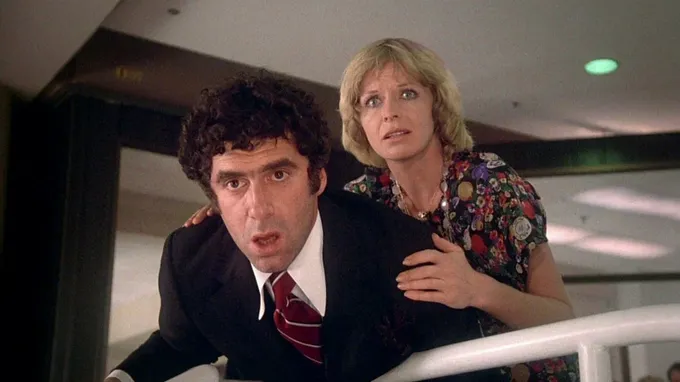 Carolco Pictures
It happens, it's a pity that it's rare: a relatively unknown film, it seems to be just a genre film, but you start watching it and you're afraid to blink. The Canadian film, released in the era of the beginning of tax breaks in the country, is a purely commercial project, a remake of a Danish film about a double robbery. An ordinary bank clerk one day begins to suspect that Santa Claus, walking around the shopping center where his branch is located, is plotting an armed robbery. And he decides to, so to speak, integrate into this crime - on a fateful day he folds the cash past the cash register, gives the thief only a trifle, and tells the police that the money that he hid was also stolen. Of course, an aggressive psychopath with a gun quickly realizes that someone else's sin was hung on him, but the servant of big capital also does not give up so easily and continues to play a double game, to do things under the jurisdiction of proxy, but everything gets too confusing. When in a secret affair two women enter on either side of the barricades. In addition to the fact that suspense rules everything in this picture, as in the best works of Hitchcock, this is also a convincing statement about the crisis of motivation for office plankton, who, perhaps, does not know why he needs a big jackpot, but is delighted with the process. This is a story about great joy in life, severely limited by staffing.
Merry Christmas Mr Lawrence Lawrence (1982)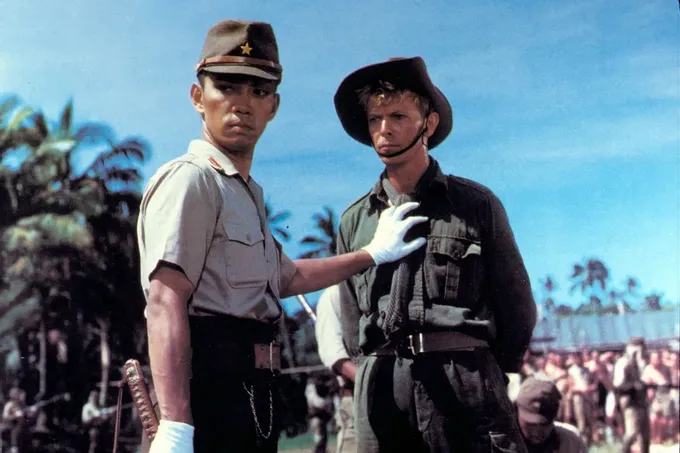 Alamy Legion Media
Genius provocateur Nagisa Oshima always knew how to surprise. At the end of "Empire of the Senses" (by the way, the greatest film about love in history), a geisha walked around the city with her lover's penis cut off - and it was a picture based on real events. In Max, My Love, Charlotte Rampling copulated with a monkey. In this sense, his anti-war masterpiece "Merry Christmas, Mr. Lawrence" still managed without sexual perversions, but even the very theme of Japanese prisoners of war seems to be a challenge for the Japanese director. The British find themselves in a camp in Java in 1942. Colonel Lawrence (Tom Conti), a reluctant collaborator who knows Japanese, but tries not to help the overseers (including the brilliant composer Ryuichi Sakamoto and director Takeshi Kitano), but only acts as a negotiator. And the defiant Major Sellers (a huge role by David Bowie, there were not very many of them at all, so this film is also a monument), who will surrender to nothing but death. Ringing Power, one of the best war dramas that doesn't feature combat.
"Golden Youth" / Metropolitan (1989)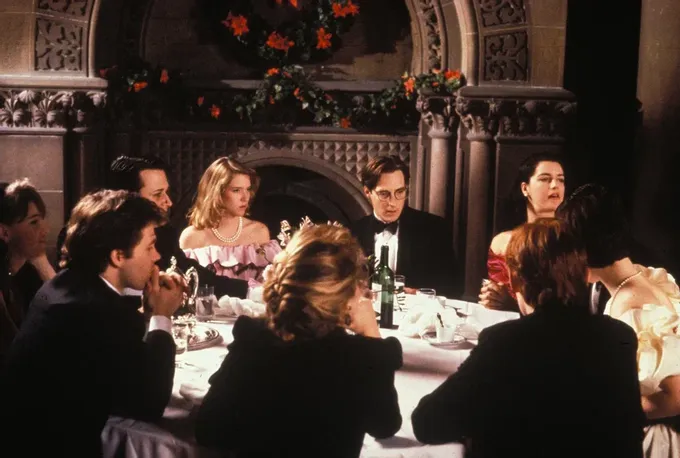 Alamy Legion Media
An extremely languid film, best suited for an intelligent home evening with a glass. Whit Stillman, from his very debut film, which is Metropolitan, has been compared to Jane Austen - he himself later guessed the similarity and filmed Love and Friendship. And he started with a cinema that comprehends the new generation contemporary to the director, and the highly privileged, aristocratic, in other words, the golden youth of New York - but in the gentle hands of the director, such material is more suitable for harsh satire. Turns into an elegiac coming-of-age story. For foreign intellectuals, this picture has long become a textbook, but in our country almost no one has seen it - it's time to fix it.
"Ecstasy" / Go (1999)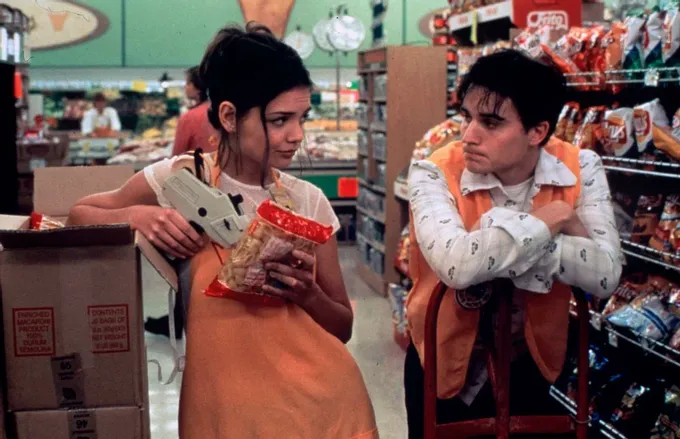 Columbia Pictures
The picture in the original is simply called Go, this is the slang name for methamphetamine, but for some reason it became known in our country under the name of a completely different drug. One way or another, this is an extremely entertaining audience movie. Twenty years ago, the style of director Doug Liman would have been compared to Tarantino or Ritchie, but then he directed Edge of Tomorrow, produced Borniana, and now he plans to shoot movies in space with Tom Cruise (although the Russians overtook him in this intention) - in a word. Transformed into Hollywood director of a big budget epic. But he started with a hearty thriller, divided into three short stories that are closely intertwined with each other. Christmas for about all the heroes goes as far as possible not according to plan, against the backdrop of hammering Moby - do not breathe.
The Ice Harvest (2005)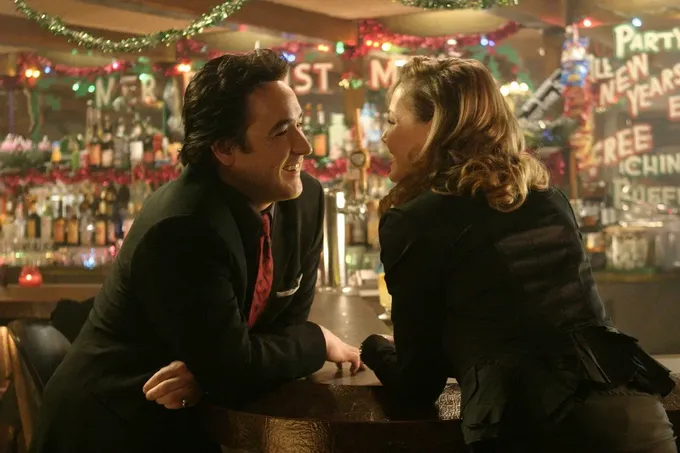 Focus Features
Harold Ramis is the director of Groundhog Day, screenwriter and one of the main characters of Ghostbusters, and also the author of a not so cult, but still enjoyable film with John Cusack and Billy Bob Thornton. On the one hand, this is a black comedy, but no one is laughing here. On the other hand, noir, but, again, performed so idiotically seriously that everything turns into a farce and an auto-parody. Something similar was filmed, for example, by the Coen brothers in Fargo.
Everything happens on the eve of Christmas. By the way, this chronological nuance introduces a similar motif into many plots of the films presented in this list - before a large-scale holiday, the situation uncontrollably heats up, because everyone wants to go on a day off without any hassle. So, the day before December 25, a mafia lawyer and his pornographic accomplice are trying to leave a remote Kansas city with millions stolen from the boss, but the roads are so swept up that they can't drive or pass. In the "Ice Harvest" one feels the forgotten spirit of the old school - a genre product of such quality and the right recklessness is very much lacking today.
"Brothers CRAZY" / CRAZY (2005)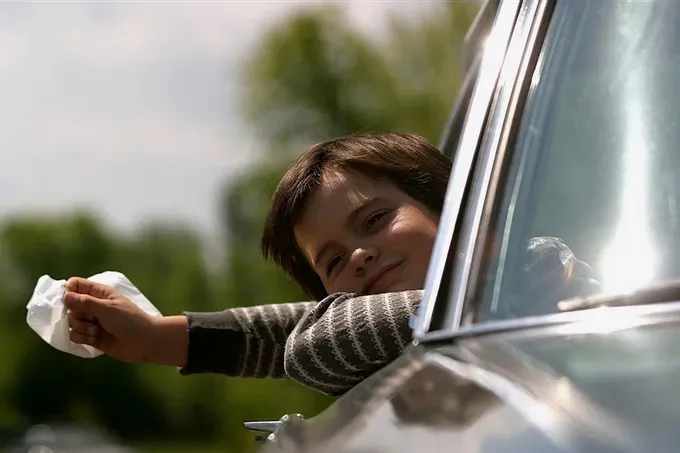 AF Film Archive
It's a shame that this work was not remembered when director Jean-Marc Vallee passed away at the age of 58. Of course, in his filmography there are more outstanding things: Dallas Buyers Club, and Wild, and the series Big Little Lies, coupled with Sharp Objects. But still, at the end of the holidays, it makes sense to revise "The CRAZY Brothers" - a small French-language work of the Canadian period, without a single star artist, which was very hard to film: the money was running out all the time. The action takes place on Christmas, only for the main character, one of the five brothers in a loving, albeit totalitarian family, it is also a birthday - no luck. The amount of calendar happiness in his life thus halved. We've been watching him for years himself, his self-acceptance as gay, his evolving relationship with his father, who is super, but unfortunately homophobic, and parallel destinies of his brothers. Subtly, accurately, emotionally. And it's hard not to notice the wonderful use of purchased music (learn, Netflix) - from the Patsy Cline song (the film was named after her) to David Bowie, from Aznavour to Presley.
"Santa for Sale" / Rare Exports (2010)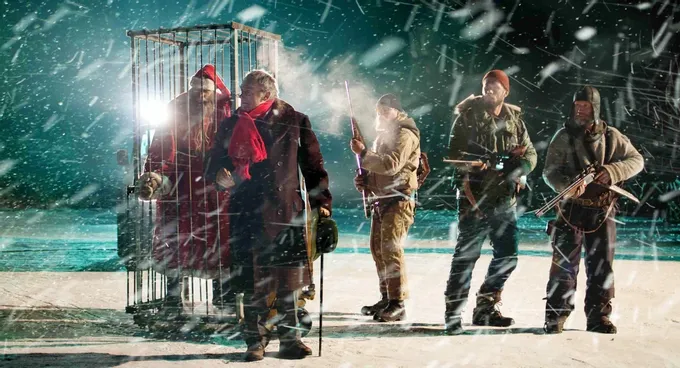 Alamy Legion Media
Exotic movies are filmed not too far from Russia - for example, a Finnish horror adventure about a demonic Santa Claus. The action takes place in Lapland, where for some reason there is not a single woman - only harsh men who prepare meat for the winter, and their young sons. They are all strained by a mysterious archaeological expedition on a nearby mountain - what have visiting Americans forgotten in their area? It turns out that the tale of an old man who is supernaturally attracted to children is not a fairy tale at all and not at all kind. When a crowd of aggressive naked grandfathers with long gray beards starts chasing the Finns, you finally understand: this movie lives in a separate, own world. In the finale, the heroes arrange the export of their own national treasure - after all, Santa Claus is loved everywhere, and his character is fixable.
"Christmas, Again" / Christmas, Again (2014)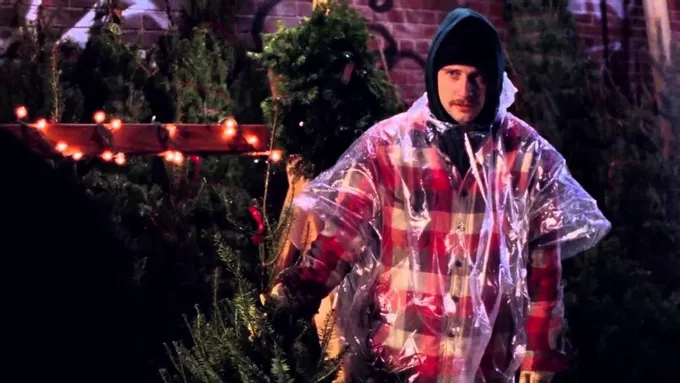 Cineticle Films
Not to be confused with "Christmas Again!" 2020. Surprisingly, this microscopic, in fact, amateur film is relatively well-known precisely in Russia - it is regularly repeated on a wide screen during the season, plus "Christmas Again" has already been legally released online (on Kinopoisk). This is a drama overflowing with the brightest sadness about a Christmas tree seller who lives completely alone in his city gatehouse. One day he finds an unconscious girl, helps her escape from a cold death and, it seems, finds a kindred spirit. In the title role - Kentaker Audley, the star (if I may say so - almost no one knows him) of the American booming mumblecore genre (when actors mumble under their breath instead of acting out scenes). The ideal viewing experience for the New Year holidays is a slightly dreary spiritual desolation.
"Tangerine" / Tangerine (2015)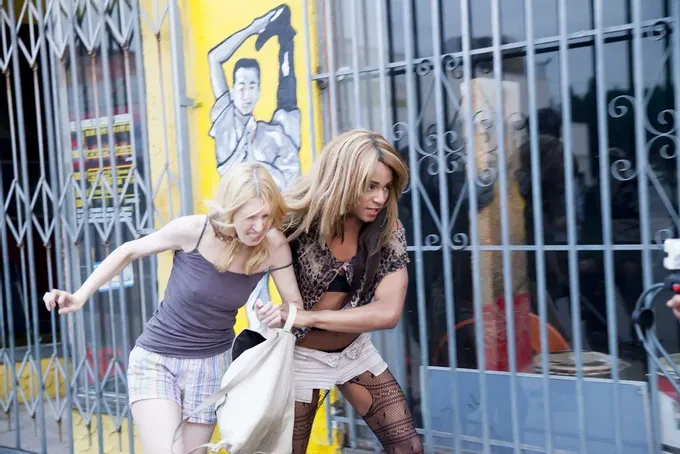 Duplass Brothers Production
Director Sean Baker documents the life of the American outback - its periphery is overflowing with vitality, buzz, color. After the Oscar ceremony, many watched his "Florida Project", this year the Cannes film "Red Rocket" about a porn actor is included in the lists of the best respected publications, and before all this, Baker had just "Tangerine" - the most unexpected picture about Christmas. Which can only be imagined. A company of transgender sex workers will unwittingly influence the life of their regular customer, an Armenian taxi driver, too much, all in wintery Los Angeles. The film was shot on an iPhone, Instagram filters are superimposed on top of the frames, but this, paradoxically, only adds vitality.
Things to know (Q&A)
What is the number 1 Christmas movie of all time?
HOME ALONE has been crowned the most popular Christmas movie of all-time in a new poll which also revealed the least popular films shown over the festive season. The Macaulay Culkin home invasion comedy classic came out of top with 24% of the vote, just ahead of the Will Ferrell favourite Elf, which bagged a 22% shar
What movies take place at Christmas but aren't Christmas?
The 25 best Christmas movies that aren't technically Christmas...
1 of 25. "The Thin Man" Getty Images. ...
2 of 25. "You've Got Mail" Getty Images. ...
3 of 25. "The Apartment" Getty Images. ...
4 of 25. "Iron Man 3" ...
5 of 25. "L.A. Confidential" ...
6 of 25. "Three Days of the Condor" ...
7 of 25. "Die Hard" ...
8 of 25. "The Long Kiss Goodnight"
What is the most popular non traditional Christmas movie?
The 25 best alternative, unconventional Christmas movies
Happiest Season (2020)
Die Hard (1988)
Gremlins (1984)
Black Christmas (1974)
Carol (2015)
Bad Santa (2003)
Batman Returns (1992)
Tangerine (2015)
What is the best movie to watch during Christmas?
Best Christmas movies
Love Actually (2003)
Black Christmas (1974) ...
Christmas in Connecticut (1945) ...
The Polar Express (2004) ...
Rudolph the Red-Nosed Reindeer (1964) ...
The Holiday (2006) ...
The Santa Clause (1994) ...
Harry Potter and the Philosopher's Stone (2001) Film. ...
What movies occur during Christmas?
Best Christmas movies
Love Actually (2003)
Black Christmas (1974) ...
Christmas in Connecticut (1945) ...
The Polar Express (2004) ...
Rudolph the Red-Nosed Reindeer (1964) ...
The Holiday (2006) ...
The Santa Clause (1994) ...
Harry Potter and the Philosopher's Stone (2001) Film. ...
What are non traditional Christmas movies?
The 25 best alternative, unconventional Christmas movies
Happiest Season (2020)
Die Hard (1988)
Gremlins (1984)
Black Christmas (1974)
Carol (2015)
Bad Santa (2003)
Batman Returns (1992)
Tangerine (2015)
•
What is the most underrated Christmas movie?
10 Best Underrated Christmas Movies, According to Reddit
Christmas With The Kranks (2004) ...
The Bishop's Wife (1947) ...
The Preacher's Wife (1996) ...
Mixed Nuts (1994) ...
Four Christmases (2008) ...
Prancer (1989) ...
Santa Claus: The Movie (1985) Available to stream on Peacock. ...
Fred Claus (2007) Available to stream on HBO Max.
What is the number 1 Christmas movie?
1. It's a Wonderful Life . They don't come better than this: It's a Wonderful Life is the best Christmas movie ever made.