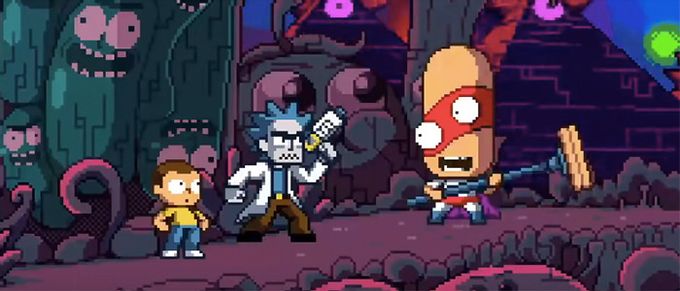 It so happened that this summer I did not make a selection of short films, as I have been doing this for four years in a row. Therefore, just before the New Year, I am correcting myself and at the same time doubling the number of cartoons. Today we will watch twenty interesting animations at once, not counting a small bonus program. Go!
The White Moon

Wolf Smoke Animation, which gave one of the most memorable Batmans in the Batman of Shanghai short film, released a homage to Chinese painting this year. The authors imitated hand painting with ink to create a unique effect of realism. As a result, they got a simple, but very beautiful and heartfelt story.
Métiers d'art 2021/22

Eight surreal novellas commissioned by CHANEL by Remembers are combined into one exquisite piece. They serve as the backdrop for the Métiers d'art show, where the brand showed its new collection. Nevertheless, even if you do not understand anything in fashion, this beautiful sketch will give you aesthetic pleasure.

A Scream Into The Future

A mesmerizing video by French artist François X. For its production, he turned to the talented director Anne Ruffin. She worked on one of the best Bobbypills cartoons, Jung's Crisis, and probably the best series of the year, Arcane. Echoes (of at least one of these works) are read in a gorgeous video sequence.
THE DESERT

The author's project of Michael Dockery - an artist who is fond of space and post-apocalypse. In this short short film, he combined both themes. It is viscous and monotonous tells the history of the Earth after the death of mankind. Pictures of surviving robots follow each other to electronic music that sets a gloomy and melancholic tone.

When The Moon Was Gibbous

A kind of homage to Rene Lalu from the extravagant Italian artist Erica Grace Strada. I cheated a little with this cartoon. It was technically completed back in 2020, but the official release took place in 2021. And since such fantastic (in every sense) surrealism does not happen often, it would be a crime not to include it in the selection.

Metal Hurlant

Another short film created by Remembers. This time in a completely different style, more reminiscent of 80s animation. It is dedicated to the comic anthology Métal Hurlant, which was popular in France around these years. Now it is being revived with the help of crowdfunding. Director Hugo Bienvenue made a preview of the project with the space Vatican and dozens of crucifixes. This is a spectacle not to be missed.
Fight Dirty
Animation clip by Swedish DJ Salvatore Ganacci. Two Australian studios worked on it: Truba and Goono, as well as several artists from Europe (from the same Remembers, for example). Stylish anime, where the main villain, in the role of Salvatore himself, is beaten by a rider on a giant palm. All this on the streets of the night city under the pumping beat. Reminds me of Gluk'oZa's new clips, but the music is also normal.

Massara

Another anime clip, this time by Japanese singer Kiyoe Yoshioka. Storyboarded and directed by Keita Nagahara. She worked on the feature-length anime Weather Child and The Shape of the Voice, so it's no surprise that this six-minute clip came out in the same sentimental tone. However, there is a more interesting watercolor style here, so it feels less frilly and a little more original.

Tribute to Donghua

The collaboration of several Chinese studios pays homage to all Chinese animation, from conservative flipbooks to 3D renders. However, their tribute is so successful that it epitomizes the work of animators around the world. At the same time, it doesn't matter if you are engaged in animation or not, this clip will definitely please you with the ingenuity of the approach and editing.

Rhythmens

Rhythmens is a short web series by Korean studio VCRWORKS. Its authors create with the desire to make a visual work that will not lose value over time. That is, they strive for the eternal. How well they succeed is up to you. The series itself is very simple and kind. Episode zero, which also became a trailer, best reveals its essence. You will understand whether you want to watch it further or not, and how the work of Korean artists falls under the category of eternal.

CONTRETEMPS

Very powerful work on obsessive-compulsive disorder (OCD). The main focus of the French authors was on the picture and on how to convey the inner state of a person with OCD through visual images. It turned out frighteningly believable, but at the same time beautiful. Another reminder of how different we all are.

LOUISE

Another short film by French students. The plot is as unpretentious as in the previous one, but the presentation is much more important here. 1895, the authors convey through a retro style similar to rotoscopy. They do not shy away from vulgar themes and naked women and show the life of a ballerina without embellishment. The graceful play of light and shadow in almost every frame gives the painted canvas even more picturesque charm. In the realities of Disney, it looks really fresh.

Furia Estival

Cartoon by Argentinean artist Daniel Dush. Bright and catchy, like the works of Genndy Tartakovsky. Without words and frills, he throws the viewer into a fierce battle, the outcome of which is not as simple as it might seem at first glance. If you like Primal, it's definitely worth watching.

Come and Learn with Pibby!

The crazy and extremely bold adult swim experiment has already generated conspiracy theories to match the video itself. In October, it was posted on YouTube, and almost immediately an army of fans gathered around it. Some say it's just a joke, others say it's a concept check for a full-length cartoon, others say a series or something like that is already in production, and we've only been shown a teaser. In general, passions flare up. Be that as it may, the short itself is magnificent, and yes, such an animated series would be very, very desirable.

Rick and Morty in the Eternal Nightmare Machine

Paul Robertson is the pixel art artist behind Scott Pilgrim vs. The World: The Game, introduced what Rick and Morty would look like in his universe. This is an absolutely author's vision of the popular series, which he helpfully released on his YouTube channel adult swim. Jokes, mini-bosses and spectacular finishing moves are available - everything we love.

THE SOLOISTS

Absolutely hilarious animation. The French comedy is not like the American adult swim humor and takes on something else: cuteness, in some incomprehensible way combined with gloomy jokes. The story about three elderly singers, made in the form of a theatrical production, will make you smile more than once, despite the short format.

Green life

If you didn't have enough memes about the green screen with Bambi, then a small short film was shot especially for you. All sorts of jokes about "greenery" are present. Bringing them to the point of absurdity too. Well, a fun visual style reminiscent of Aardman Animations' puppet animation ("Shaun the Sheep") is available.

Colors and Shapes

American rapper Mac Miller died in 2018 from a cocaine overdose. In 2021, director Sam Mason, obsessed with the work of Terry Gilliam (The Imaginarium of Doctor Parnassus) and Jimi Henson (The Muppet Show), decided to resurrect the memory of the artist. He made it an unusual Faces project. The short film Colors and Shapes is part of this project. It is inspired by the rapper's childhood things that the family of the deceased gave to the director. So in a sense, the clip really became a memory of a musician from the other world.

I'm A Pebble

Another student work of French artists. It may be in 3D, but its visual style is so flawless that it sits somewhere in between 2D and 3D animation. The authors successfully combined the render with a watercolor palette, and the result was a truly bewitching picture. You just want to watch her and note the details of each frame. An absolute visual delight.

Fuelled

The story of a wife who went to avenge the murder of her husband. A simple but powerful message. Flawless animation. Combining cute style with bloody brutality. What else is needed for successful student work? This is enough to enjoy a good cartoon.
Welcome to O'Town

For a change, you can look at the work of Canadian students. It is most easily described as the "Zootopia" of a healthy person. Exactly the same plot: the rabbit goes to conquer the big city. Only she is not obsessed with the execution of the law, but loves music and is trying with all her might to earn her a living. It turns out she is not very good, but (spoiler!) she finds nice friends.
Bonus: ultra-short featurettes

There were so many interesting projects this year that it is impossible to cover everything at once. In the end, there were a few more miniatures that are too short to be called full-fledged shorts, but they are still unique in their own way. Therefore, I will quickly run through them in the "blitz" mode.

Glas

The promo for the sixth GLAS Animation Festival flirts with abstract art and beautifully manipulates a minimalistic play of color.
Journey

An individual project by an artist from Scotland, which he did in his spare time. Another interesting way to combine 2D and 3D.

Zero to Hero

You can't miss the nostalgic VHS clip for the fictional band Star-Lord's song from Marvel's Guardians of the Galaxy.

Desir de Contemplation

A short film from Blender, which in just a minute manages to tell a big story and give a whole bunch of emotions. Definitely a masterpiece.

Author's animation "Cowboy Bebop". Only a few shots, but even they will give joy to those who miss that same Bebop.

L'office du Loplop

Seconds of a beautiful cathedral and an explosion. A student tryout, but already now it looks like an application for a new season of Hellsing, although it is a tribute to Loplop, if you know who it is.
Ronde de Nuit

Trailer of a noir story that is definitely worth seeing. I hope it comes out in 2022.

Saru

Funny short film about a monkey. Very minimalist, but cute and not without frills.
short cartoons