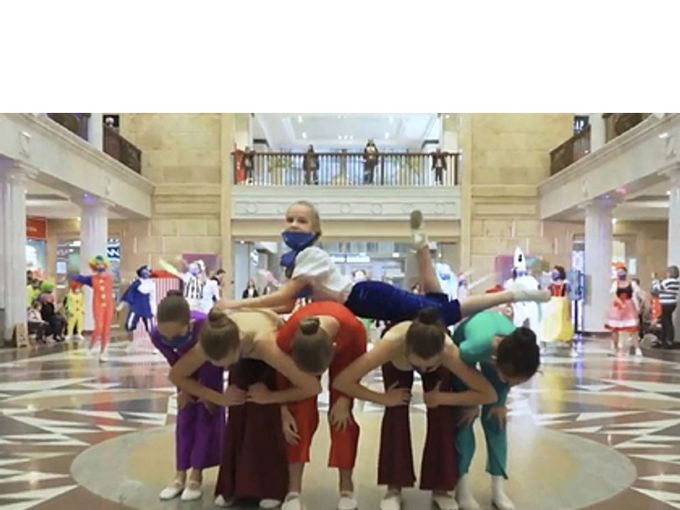 On the eve of National Unity Day, the Russian movement of schoolchildren held a fabulous song flash mob "Unity in a Fairy Tale" on social networks, posting a "viral" video, the participants of which were young singers, dancers and actors. The video was filmed at the Central Children's Store on Lubyanka in Moscow. The guys were also supported by the famous musician, blogger Anatoly Tsoi (TSOY).
The purpose of the All-Russian online flash mob, which was launched by the RDS on November 2, 2021 in social networks, is to unite the perception of National Unity Day among all Russian schoolchildren.
"We know that we, Russians, are united by a common culture and values ​​that are transmitted through a variety of works. For the younger generation, folk tales are the source of eternal values. It is there that every Russian child draws wisdom, rules of behavior, reads images and learns the unified cultural code of the country. Moreover, many children learn not only through books, but also through films and cartoons, "commented Irina Plescheva, executive director of the Russian movement of schoolchildren.
It was the compositions from cartoons based on fairy tales that formed the basis of the RDS flash mob. The schoolchildren arranged a surprise for the visitors of the shopping center in Moscow and performed a medley of well-known good songs: "Where Wizards Live", "Song of the Bremen Town Musicians", "Song of a Dream", "Chunga Changa", "Buratino", etc. Share your participation in flashmob guys will be with the hashtag #UnenieVSkazka. In a pandemic and self-isolation, schoolchildren from all over the country will be able to unite, shoot their videos and post them on social networks, performing key dance moves.
"The fairy tales from which we danced are very important, because they unite us. And that is why we danced so amicably today, because we were not familiar with the guys from other groups before, but creativity brought us together. The fairy tales speak of such values ​​as mercy, friendship, love, this is very important, "said Daniil Sidyakin, a participant of the flash mob, an RDS activist from Moscow.
The action was organized by ANO "Center for Creative Industries" New City ", folk group of contemporary pop dance" Show Ballet "" Flash "of the city of Lyubertsy, children's choreographic studio" Illusion "Krasnogorsk, Children's Song Theater" Modemuz "Krasnogorsk.
"Today we visited a shopping center, and then suddenly children jumped out and started dancing. It was so much from childhood! Storm of emotions. I'm glad the kids don't forget. These are songs from those cartoons based on fairy tales, from books that we have read and are now reading to our children, "said Lidia Rodchenko, a spectator of the flash mob.
The event was supported by the famous singer Anatoly Tsoi, who sang along with the guys and talked with the RDS activists.
"Very cool! More of this. The soul is warm. I immediately remembered my childhood. It's so nice to hear my own songs, those that I once sang too. Thanks a lot guys. You are great, "Anatoly Tsoi said.