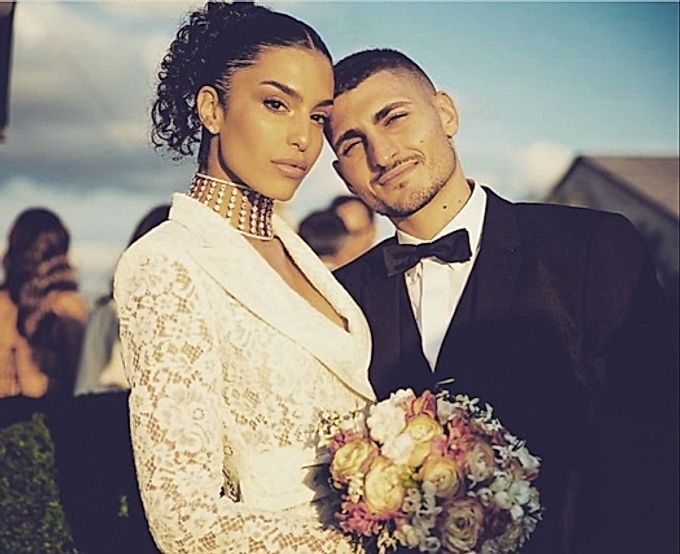 On July 15, 28-year-old footballer, midfielder of the Paris Saint-Germain club and the Italian national team Marco Verratti said goodbye to bachelorhood - the Italian married his 29-year-old girlfriend Jessica Aidi, whom he had met for about two years before marriage.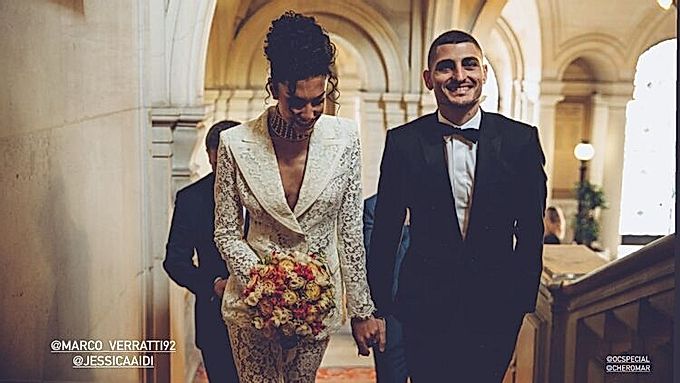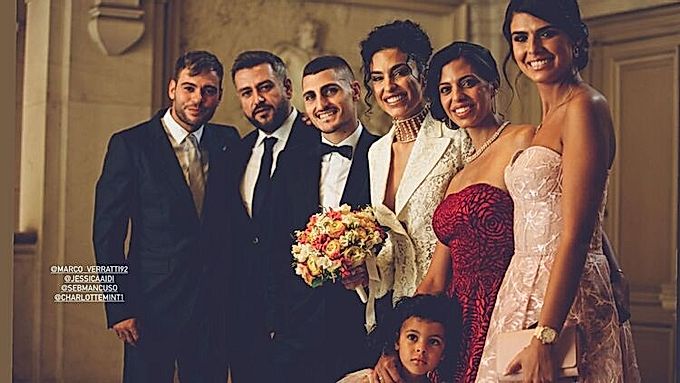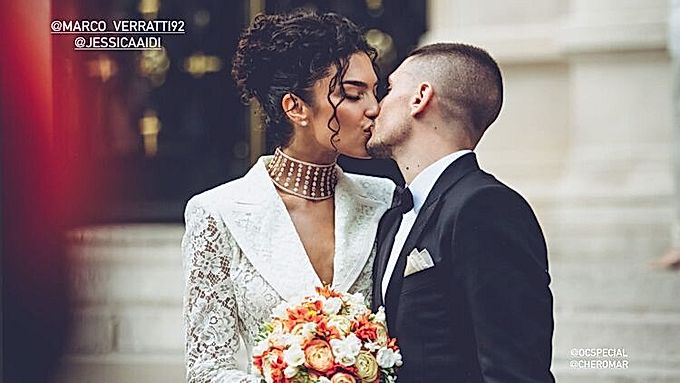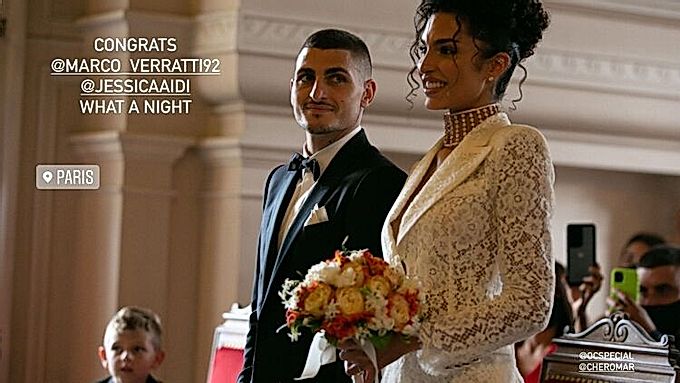 Marco Ferratti became a Paris Saint-Germain player on July 18, 2012, a five-year contract. The transfer amount was 12 million euros. Under the contract, Marco received 850 thousand euros for each playing season. In December 2012, he entered the top 5 UEFA Champions League rookies of 2012/13, after which other clubs tried to lure him away. However, he re-signed the contract with PSG with an increase in the fee several times.
The second season as part of the French club became even more successful: the club won both the championship and the League Cup, and Verratti was recognized as the best young footballer in the league and was included in the symbolic team. In February 2019, Ferratti extended his contract with PSG until 2024.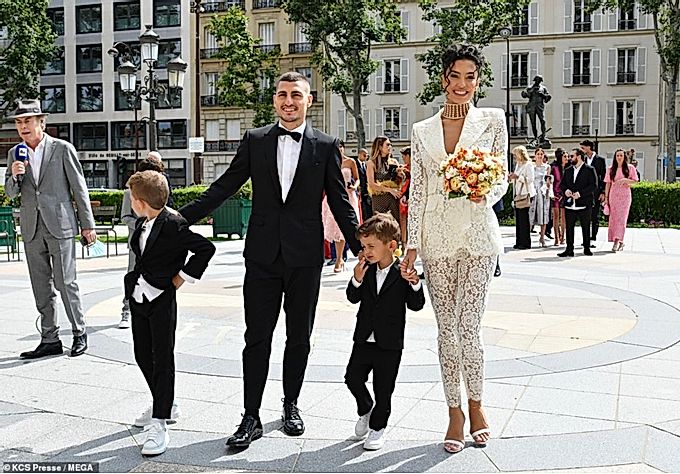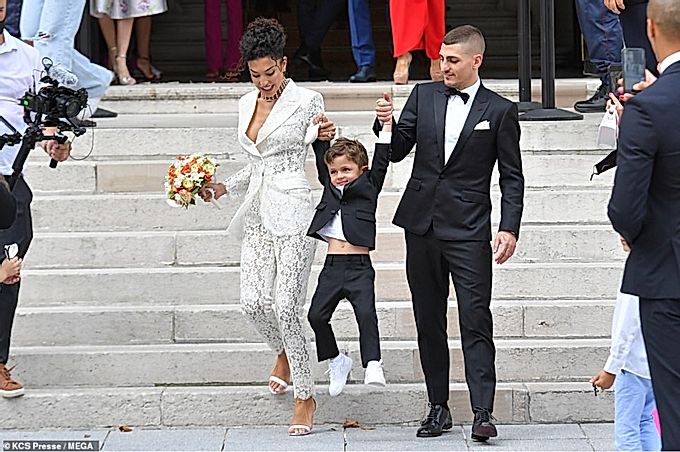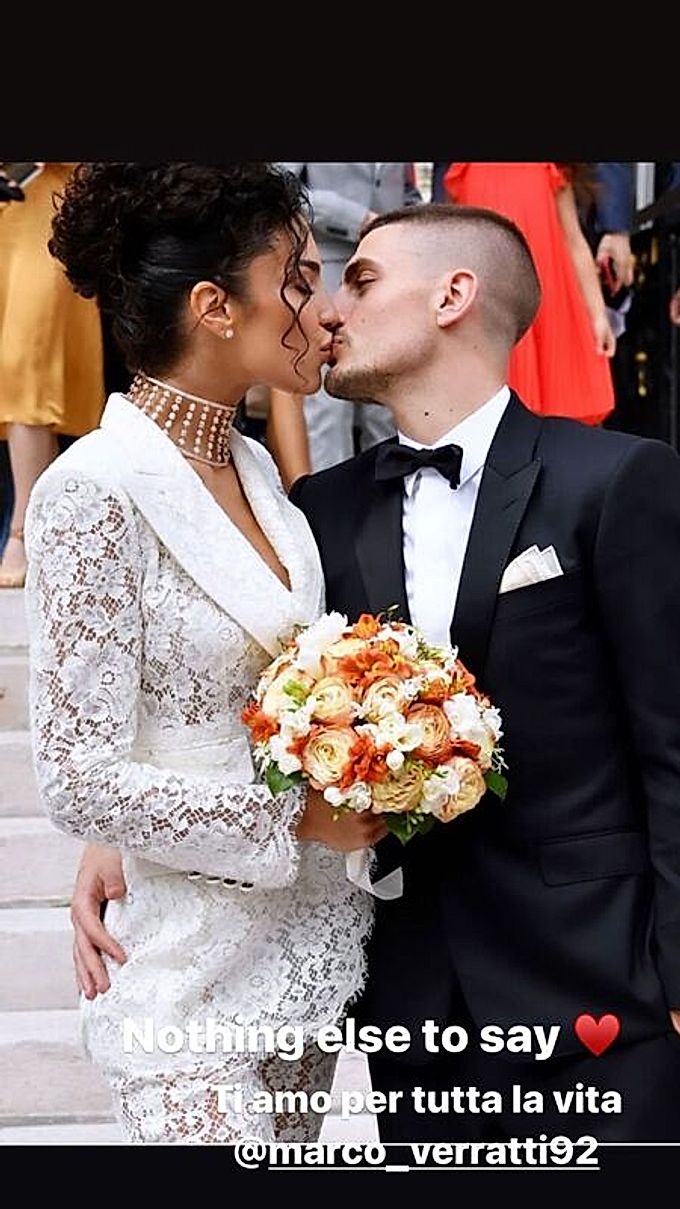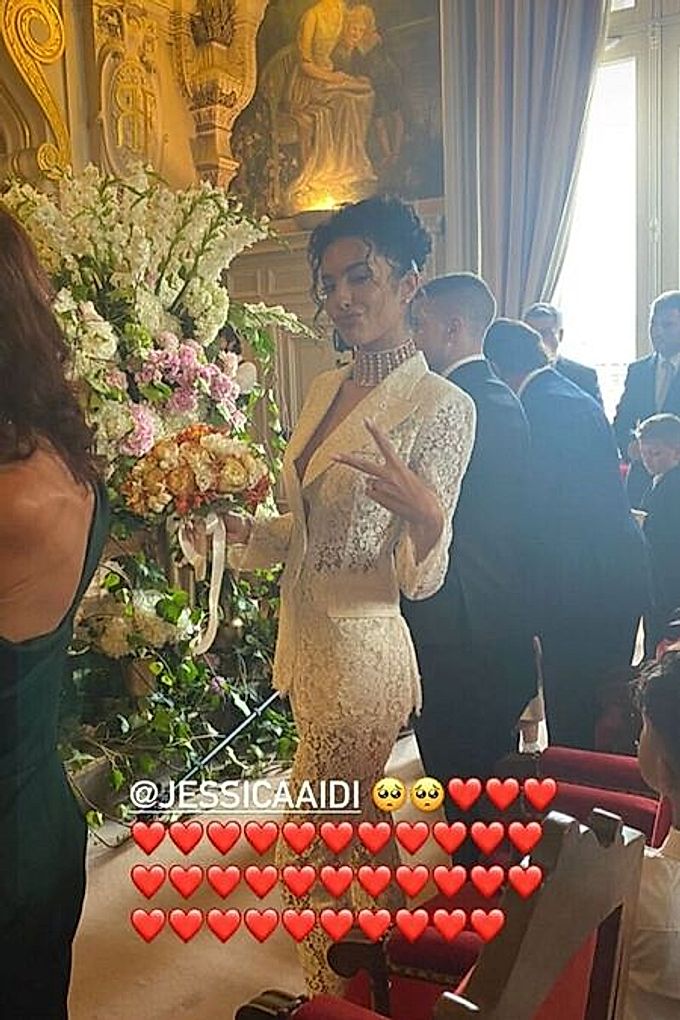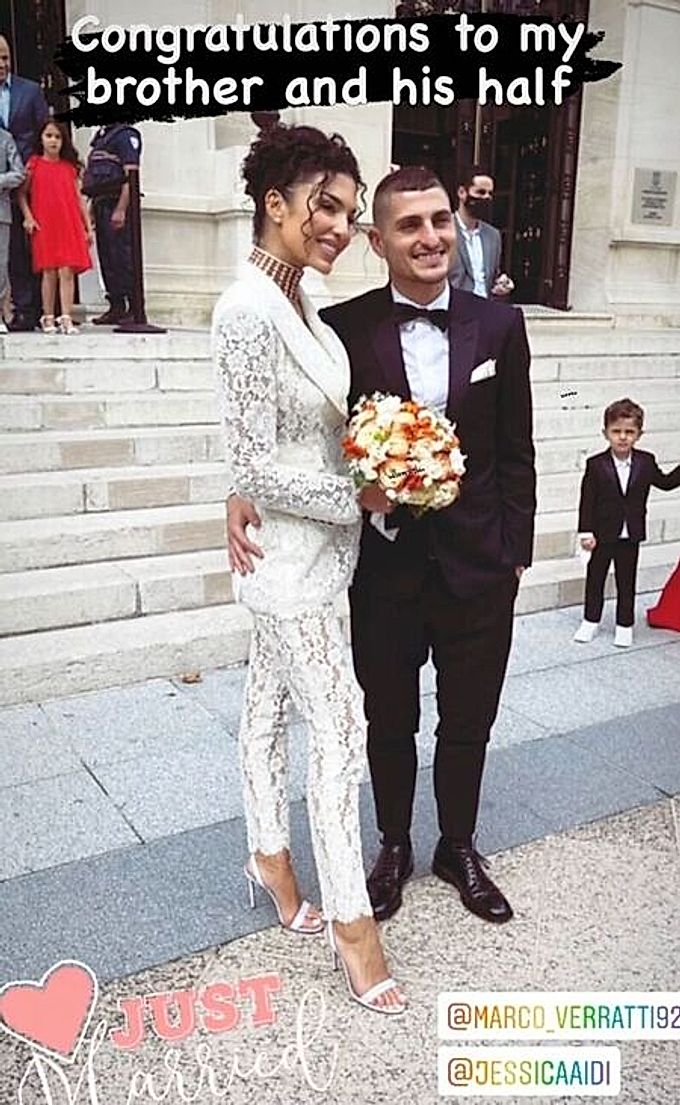 The wedding ceremony took place in Paris, four days after the victory of the Italian national team at Euro 2020, which included Marco. PSG striker Kilian Mbappé, Milan striker Zlatan Ibrahimovic and many other celebrities came to congratulate the newlyweds. The culmination of the evening was the fireworks at the Eiffel Tower.
For the first time with Jessica Aidi, a footballer was spotted at the 2019 Monaco Grand Prix. According to rumors, Marco and Jessica met on the set for Sports Illustrated magazine. After that, the footballer divorced his first wife, Laura Zazzara, and the model ended a long-term relationship with Laurent Bourgeois, a member of the dance duo Les Twins. From his first marriage, Verratti has two sons - Tommaso and Andrea.
TOP 5
Don't take me away from the party. Photo post. Drunk celebrities
Amelie 3100692
WantedGirl 2173588
elena_dokuchaewa 1522679
katyanochek 365642
Lizbeth 736116
arizonadream 447159
Skarletty 1179313
Comments (1)
Sign in to comment
Hot girl, I approve)
True_love, as there ... not a single tina kunaki))))))))))
beautiful juicy girl
beautiful suit

and the groom is Italian-Armenian :))))))))
Arrrrrrr, nothing that the Mediterranean type of appearance: Spain, Italy, Greece, Turkey, Israel, + our entire Caucasus. All of Asia Minor? You can only understand the affiliation by language :)) Remember the joke from some kind of Russian comedy: a handsome instructor in the mountains in a ski suit is Italian, and came to Moscow in bones in a Caucasian cap with knapsacks
Arrrrrrr and Arab girl
At first I was glad, and then I read that I left my wife and children because of her ...
Nucha555, but you had to live for 2 families? And he did not abandon the children - there are happy children jumping at his wedding. If they parted according to the normal, while maintaining good relations, then the children often only benefit: they live in two houses, travel and gifts in double sizes. In Italy, parents who are divorced often have a sense of guilt about their children, they also compete who will give the coolest gift and who will give them more attention, and the children are happy in the end ...
Picciotta, you are too idealizing the situation, divorce is always a trauma for a child, no gifts will compensate for this. My husband still suffers from this childhood trauma, although my parents separated peacefully and talked. It is clear that living in two families is also not good, for some reason I cannot believe in unearthly love, the lady looks like a golddigger.
Nucha555, children who suffered from divorce, then in adulthood can also get a divorce, and believe me, they will not use their childhood suffering as an argument not to get divorced. And how did you determine that the girl is a Goldgilder? Maybe your wife was like that? How do we know? I hate people who interfere with families, but this blind credit of trust to a wife, purely because of the status of a wife, is absurd, some wives are worse than any Gold Guides.
Nucha555, for children, trauma can be anything, a simple change of residence or the death of a hamster. It is important how all this will be furnished by the parents, you need to talk with the children and find ways to solve the situations that have arisen, taking into account their interests, and adjusting life in such a way that the presence of both parents in the life of the children is equivalent. The only thing is that divorce in adolescence is not the right moment. And in childhood, it passes without any special consequences for the psyche, my mother divorced my father when I was 5 years old. No injury.
Picciotta, I personally came across this topic. Divorce and the father sees the children once a week. Children are very bored, they want to see him before going to bed and after waking up, so this expression 'after the divorce, the children have both dad and mom' this is all theory from the psychologist's office :)
Twofinger, once a week is very little, ideally 50/50. And I meant Italians, since the hero of the post is Italian. In Russia, unfortunately, divorce is often a tragedy for children. Fathers who do not want to pay child support ..., mothers who do not allow fathers to communicate with children, it is sad ...
The bride is gorgeous. The groom is like a plucked sparrow against her background.
But these fabulous million-dollar contracts for these essentially useless footballers for the world, I will never understand.
Lashona, they just get a slice of a really big and expensive pie. And not the biggest one. Rather, it is not clear why this cake is so expensive. Although the situation with film actors, musicians, popular bloggers is the same. A lot of money has been spinning in the entertainment industry, and for a long time. And all because people hawala)
beautiful but some unsuccessful implants. very far from each other, there is a hole in the middle
remamari, flared breasts, windy bangs, flame and ice ...))
Where are his best friends Insigne and Immobile? Didn't you come to the wedding?
what a badly made sissy
Gruli like soccer balls
They look like a "classic" footballer and his "classic" wife.
Sign in to comment
Now on the main
Galleries
The use and reprinting of .ru materials is possible only with the written permission of the publisher and with an active link to the source.
The site may contain materials intended for persons who have reached the age of 16.
Attention! It is not allowed to post photos, videos or other content on the site if you do not have the necessary rights and / or the consent of the copyright holder. Before registering recommend that you read the user agreement .
We use cookies to get statistics and make content more interesting. Cookies are also used to make ads more relevant. You can read more about cookies and change your browser settings.