No matter how much it hits, ... fight back! I don't know who said, but the thought is right on point!
I will talk to you today from the height of my age. A woman wants to be young and beautiful always. But the time comes, and the body is rebuilt, the structure of the skin changes, because the production of elastin and collagen slows down, there are malfunctions in the sebaceous glands, and the water balance in the cells is disturbed.
But I don't want wilted skin, drooping eyelids, bags under my eyes, wrinkles, because I still feel very young. Can anything be done? Can! It is enough to look around and understand that here they are, helpers that can support the skin in the desire to remain fresh and toned for a long time. We are talking about masks for aging skin that can be made at home.
Homemade masks for aging skin - TOP-20 recipes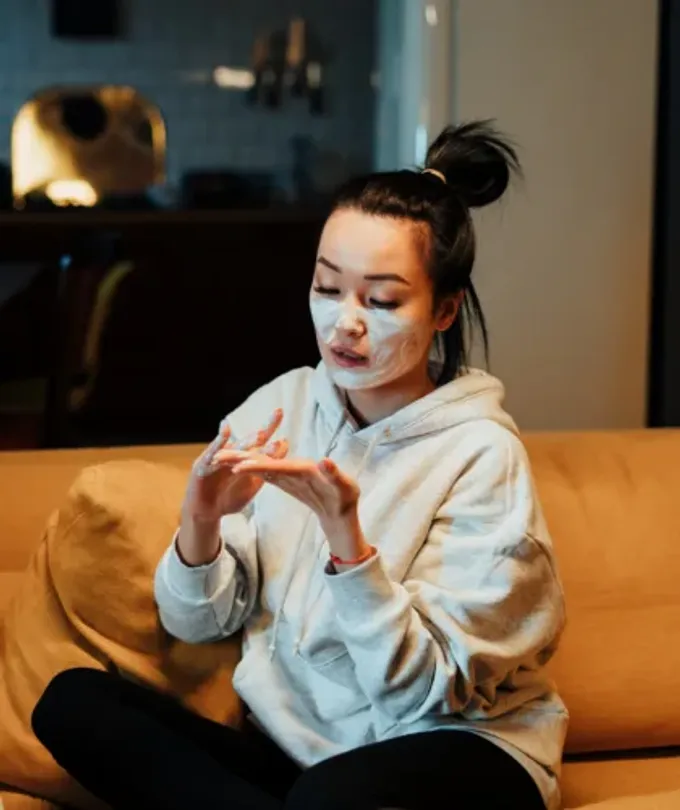 They contain substances that can nourish the skin with vitamins and minerals, moisturize it, and improve the functioning of the sebaceous glands. The skin is toned, its color will improve, the oval of the face will tighten.
Pour ten grams of gelatin with thirty milliliters of mineral water, slightly warm in a water bath so that the powder swells. Add 50 milliliters of warm milk and a piece of butter. The effect of the mask is 20 minutes.
This chocolate drink is rich in iron, potassium, vitamins A, B9, PP, protein, healthy fats. Mix a teaspoon of cocoa with fine green tea poured from a bag. Add hot boiled water with a teaspoon until gruel forms. Finally, a teaspoon of liquid honey. Such a mask can be applied even under the eyes, it will remove puffiness, hide darkening.
Whipped protein is a wonderful lifting
It is enough to beat the protein and apply it with a brush on a cleansed face, avoiding the areas around the eyes. But feel free to apply foam on the neck and décolleté. Let it dry for a couple of minutes and apply the next layer, after another 2 minutes the third layer. Now sit down and try not to tense your facial muscles. Wash off with warm water after 15 minutes.
For additional nutrition, add honey (a teaspoon) and oatmeal (a tablespoon) to the protein mass. Apply the resulting mass on the face and gently massage. The keratinized particles will be gently removed, and the complexion will noticeably improve.
The skin will lighten, and age spots will disappear if a few drops of lemon juice are added to the protein foam. And by mixing the composition with a spoonful of sour cream, you will provide the skin with a composition that perfectly moisturizes the epidermis.
After protein masks, it is good to apply a nourishing cream and light patting movements.
Starch - a replacement for Botox
A simple but very popular mask. Pour a tablespoon of starch into a bowl, add half a cup of warm water, stir and set to heat over low heat, stirring constantly until the liquid thickens. Cool, pour in a spoonful of sour cream and honey. Spread the warm mass on the face, neck and décolleté. Lie down for half an hour and wash your face.
Face mask for aging skin
For oily skin - carrot juice
You repeat the steps of the previous recipe, only instead of sour cream you add two tablespoons of carrot juice. Did you know that beta-carotene, which an orange vegetable is rich in, when it enters the body, turns into retinol, which is involved in cell renewal and restoration? It is very beneficial for aging skin.
Rice also contains starch, which is very necessary for aging skin, as it makes it smooth, elastic, and removes wrinkles. Take a spoonful of boiled rice and 2 tablespoons of hot milk. Blend in a blender until a homogeneous mass is formed, pour in a teaspoon of honey. The mask is ready, it is convenient to distribute it over the face with a brush. Leave on for 30 minutes until dry. After that, rinse with water.
Oatmeal in masks is able to energize the cells of the epidermis and at the same time play the role of a light scrub. Two tablespoons of cereal pour half a glass of hot milk. Let them stand. Mash half a banana and add to the bowl. Massage for 5 minutes and leave on face for 20 minutes.
In the summer, when the berry is in abundance, instead of a banana, you can add a few strawberries, after mashing them. In addition to nourishing the epidermis, these fruits have the ability to lighten the skin, removing age-related pigmentation.
In summer it can be fresh berries, in winter you can get a tray from the freezer. Naturally, thaw the product in advance in a natural way. Two tablespoons of strawberries, currants, raspberries, cranberries, use the one you have. You can mix. Add egg yolk and a spoonful of milk. The mask is ready.
Boil one potato, mash it, add 5 tablespoons of milk and a teaspoon of butter or vegetable oil. No, no, this is not a puree side dish recipe! Such a mask. Potato is primarily a starch that tones the skin, milk will cleanse, whiten and strengthen the skin, oil will soften it as much as possible. The duration of the composition is 40 minutes.
As we age, facial skin becomes drier and rougher. In this situation, cottage cheese will help. You need to take 2 tablespoons of it, add the yolk and a teaspoon of honey, lemon juice and any vegetable oil. Mix the products and apply the mask for 20 minutes.
Avocado contains a large amount of fatty acids - palmitic, stearic, linoleic, linolenic. Justifies its literal translation - "forest oil". It is exactly what aging skin needs. Take half of the fruit for a mask, and eat the other with appetite. Mash avocado, add egg yolk. Apply the mass on the face, soak for 20 minutes, rinse.
You will need yogurt (2 tablespoons), almond oil (1 teaspoon), starch (2 tablespoons). Get a thick composition. Apply it along the lines of the lymph flow, leave for 40 minutes. Affects the dermis, makes the skin supple and elastic.
Due to keratinized cells, the epidermis becomes dry, irritated. The skin loses its healthy color, looks tired and fading. By applying a lifting mask, we will open the way for oxygen and beneficial substances. You need to take one teaspoon of starch, milk, honey and sea salt. Mix everything thoroughly and apply with a brush on the face in 3 layers. Wash off after 15-20 minutes.
Hibiscus flowers (1 spoon) brew a third cup of boiling water. Cover and let steep. Mix two tablespoons of infusion with a spoonful of honey and the same amount of starch. Apply with a brush to the face, neck and décolleté. Wash off after 20 minutes. The mask perfectly tightens the skin, nourishes it with useful substances, relieves inflammation and refreshes the tone.
Take a tablespoon of kelp thallus powder. It can be bought at a pharmacy. Fill with water and leave to swell. Strain the seaweed, add a teaspoon of starch, honey and olive oil. Spread the resulting mass over the face. It is better to do this lying down with a towel under your head. Wash off with warm water after 20 minutes.
By the way, do not pour out the water from the laminaria, use it as a facial tonic.
Yes, fragrant, because, in addition to clay, you will need lettuce leaves, a sprig of mint and honey. Squeeze a couple of lettuce leaves to extract juice. Finely chop the mint and combine with the resulting liquid. Pour honey there and leave for 5 minutes. Add a teaspoon of white clay. Apply to face for 20 minutes and rinse with warm water.
Such a beautiful name was given to her not only for the unusual color, but also for the magical transformation of the skin. In a tablespoon of fat sour cream, add turmeric powder at the tip of the spoon, mix. The next component is cosmetic oil, a teaspoon of any, beloved. There are also 10 drops of vitamin E.
It remains to be reminded that masks are made 1-2 times a week for a month. During this time, the skin will blossom, revive and truly delight you.